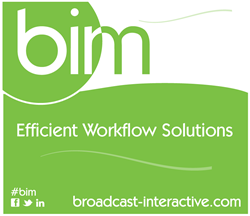 Madison, WI (PRWEB) October 05, 2015
Broadcast Interactive Media (BIM), a leading provider of revenue and technical solutions to local broadcasters, today announced the additions of powerful new features in its MediaStar's Scheduling Tool.
The first feature, Program Defaults, allows customized event attributes to be created, maintained and selectively applied to other occurrences of an event. The feature permits the program attributes of an event to be uniformly applied as desired to other occurrences of that event throughout a schedule. In installations where a central control staff maintains many stations, the program defaults may also be applied to events on the schedules of other channels.
The second new feature, the Change Date, is a dedicated field used for electively recording the date a change to an event was saved and put into effect. The addition of the Change Date attribute frees a Custom field for other use when performing schedule maintenance tasks.
The Change Date attribute may be displayed in the site's grid to easily locate the date of an event's latest change. Clients who use MediaStar's Distribution feature may choose the Change Date attribute when selecting events to distribute to other schedules. The Change Date may also be used as a criteria in the schedule grid's Search function.
When creating a report, Change Date may be chosen as an event attribute to display in the report. It may also be used as a filter criteria when selecting events to include in the report.
In addition to the dedicated Change Notes attribute, Change Notes and Event Comments fields are also available in the event form for entering and maintaining additional information about the changes made to an event.
"We are constantly working to add value to MediaStar. These latest updates are prime examples of our efforts to enhance our clients' experience and allow them to work more efficiently," says Heidi Steffen, SVP, Licensed Application Sales. "We listen very closely to the feedback we receive from our clients. Their comments and suggestions play a large role in driving the development of not only MediaStar but also the other products in our MediaStar Suite of broadcaster tools.
Based in Madison, WI, BIM (http://www.broadcast-interactive.com) is a leading digital ad network and data services provider of revenue and technical solutions to online publishers and remains a trusted resource for hundreds of local broadcasters and media sites.
For more information, please visit http://www.broadcast-interactive.com.