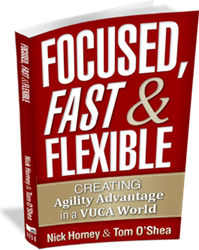 The speed of play in business is creating accelerated obsolescence of leaders and organizations ... are you ready for this VUCA World? Tom O'Shea, CMC
Greensboro, NC (PRWEB) October 02, 2015
Today's leaders are strapped into a world in which the need for transformation in the leadership of organizations is an absolute necessity to match the level of change happening in competitive, consumer, customer, and workforce environments.
"The daunting, ever-increasing speed of change is rapidly altering the relatively simple environment of the late 20th century into a world of exponentially increasing turbulence," says Nick Horney, coauthor of the book Focused, Fast & Flexible: Creating Agility Advantage in a VUCA World (Indie Books International, 2015). "Being successful in this environment requires a transformation in how an organization operates, in how it thinks about itself, and in how it is led."
In the 1990s, social scientists working with the U.S. Army War College recognized the ongoing chaos happening around the world and the implications for their mission of preparing our military leaders to understand and lead in this context. They coined the acronym VUCA as a shorthand way of referring to this environment: Volatile, Uncertain, Complex, and Ambiguous.
"After the tragedy of September 11, the college informally changed its name to VUCA University, signaling its realization that these were going to be long-term descriptors for the future realities that military leaders would face for some time to come," says Tom O'Shea, the books coauthor. "Since that time, VUCA has become increasingly well-known and adopted as the descriptor for the challenging internal and external environments that all organizations face today and will face with even greater intensity in the future."
Each of the VUCA factors contributes significantly to the turbo turbulence in the operating context for leaders. Corporate leaders face the VUCA world every day.
"Confident, agile organizations and leaders need to be skillful guides able to convert the external negative energy into positive internal energy cascading down through the organization creating confidence and success by becoming more focused, fast and flexible," says Horney.
The frenzy of innovation is the hallmark of the 21st century, a century driven by the continuing digital revolution, rapidly expanding interconnectivity and intensifying global competition with radically evolving consumer expectations and dynamics. The book contends an era of turbo turbulence is upon us, with increasingly vexing turmoil coming at us at increasing speed.
O'Shea says "There are fundamental questions that leave survival hanging in the balance: How will organizations deal with such an environment? What will be the impact dynamic on your enterprise and how will you respond as a leader?" The clear answer, contends the book, is that you and your organization must become agile—focused, fast, and flexible—where people, processes, and technology continuously adapt to changing conditions.
"This capability will enable you to continually anticipate, monitor, and adjust to trends and the new dynamics, so you and your enterprise not only survive but thrive," says Horney. "There is a rapidly growing understanding by CEOs and senior leaders around the globe regarding the need for organizational agility, and many leaders have already attempted to promote it in their organizations in some form or fashion."
Here is what other respected leaders have to say about Focused, Fast & Flexible book:
"The VUCA world of volatility, uncertainty, complexity, and ambiguity is upon us – whether we like it or not. This book lays out the roadmap for surviving and prospering in these dynamic and challenging times." Bob Seelert, Chairman Emeritus, Saatchi & Saatchi
"Tom and Nick helped prepare and mobilize our team for what lies around the corner – change and transformation at lightning speed. The Agile Model helped our managers see the world through the lens of opportunity – to anticipate what truly is around the next bend and to create resiliency for the challenges ahead…and winning in the marketplace." Mark Nelson, President, ARAMARK Higher Education
Authors Horney and O'Shea offer a widely acclaimed best-practices approach built around their trademarked The Agile Model® developed in the course of more than 15 years of dedicated study on the drivers and dynamics in creating enterprise agility working with dozens of organizations and thousands of leaders. This research-based "next practice" model frames the essential drivers of organizational agility, identifies the processes that enable each driver, and clarifies the domains and potential outcomes of a serious effort to become agile.
Horney founded Agility Consulting & Training (ACT) in 2001 and has combined his background as a psychologist, consultant and former Navy Officer in Special Operations to be recognized for innovations in the fields of leadership development and change management. Nick Horney has built his body of knowledge and applied experience in industry, shaping change management practices at Coopers & Lybrand and on the executive leadership team at the Center for Creative Leadership. He has been an active contributor introducing organizational agility into the latest best practice model at the Project Management Institute (PMI).
O'Shea, co-owner of ACT since 2003, has over two decades senior leadership experience at industry-leading companies in fast paced, branded consumer products categories along with another decade serving as a trusted advisor and coach to business leaders around the globe in a wide variety of industry segments. O'Shea's latest speaking engagement "Creating the Agility Advantage" will be October 7th 2015 at National Bankers Association Annual Conference held next week in Savannah, Georgia.
Agility Consulting & Training is recognized globally as a leading resource for insight and tools to help leaders, teams and organizations build agility as a competitive advantage. ACT has been fully dedicated to building a body of knowledge and analytics about agility since 2001. This past year, ACT expanded its commitment to the field by bringing two additional principals to the firm and naming leaders for specific practice areas. The practice areas and leaders include Leadership Agility (Nick Horney PhD), Team Agility (Mike Richardson), Organizational Agility (Tom O'Shea) and Agility Analytics (Ben Baran, PhD).
Information supplied by Agility Consulting & Training, LLC
Media contact Tom O'Shea at tom(at)agilityconsulting(dot)com or 336.282.1211
Short Video clip: https://vimeo.com/72441199