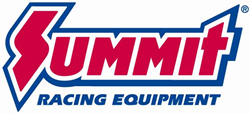 Tallmadge, OH (PRWEB) October 05, 2015
The suede on Grant's Pro-Grip Suede Series Steering Wheels provides extra grip and comfort—a nice extra bit of assurance when tackling a winding, high-speed road or dodging cones on the autocross course.
Suede also looks classy, especially the way Grant does it. It wraps each Pro-Grip wheel with premium black suede and hand-stitches it in place with custom colored thread. Enthusiasts even get a choice of a red, blue, orange, gray, or yellow 'racing stripe' at the 12 o'clock position.
The Pro-Grip Suede Series Steering wheels feature a strong aluminum frame and are available in full-round and D-shape styles. An installation kit is required, sold separately.
Summit Racing Equipment
http://www.SummitRacing.com
1-800-230-3030