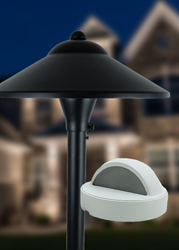 The VOLT® coatings are guaranteed to survive harsh outdoor conditions year after year.
Tampa, Florida (PRWEB) October 05, 2015
VOLT® Lighting, leading factory-direct manufacturer of indoor and outdoor lighting products, announces the addition of two new finishes to their popular landscape lighting line. They include both black and white powder-coatings applied to several of their brass landscape lighting fixtures.
The fixtures with these new finishes (VOLT® path and area lights) were produced in response to a large number of customer requests. While most consumers prefer the antique bronze finish, some select black fixtures to match other black features in the landscape such as wrought iron fences and lawn furniture. Black can also complement modern architectural styles.
Only one new fixture features the white finish – the VOLT® Deck Light. Deck Lights are commonly used to mount on fences, posts, and railings. White is a popular color for these structures, making the new deck light a logical choice. By matching the color of the fixture and structure, the light blends into the background; it does not distract the viewer from the architectural beauty.
Steve Parrott, Communication Director, describes the technical advantages of the new finishes, "Consumers should know that these black and white VOLT® fixtures have powder coatings far superior to most on the market. Typical manufacturers use inexpensive materials and processes that result in coatings that chip and peel. The VOLT® coatings are guaranteed to survive harsh outdoor conditions year after year. "
The new VOLT® Lighting fixtures all feature a lifetime warranty – a guarantee rarely applied to powder-coated lights.
Parrott continues, "Our company plans to release many more fixtures that offer a variety of styles and colors. As these additional lights become available, both consumers and professionals will enjoy greater flexibility in selecting fixtures that best complement the landscapes and architecture they illuminate.
About VOLT® Lighting
VOLT® Lighting is a factory-direct supplier of high-quality, low-cost indoor and outdoor lighting products and systems. The company features highly reviewed customer service, fast shipping, and lifetime warranties. For more information call 813-978-3700 or email (customersupport(at)voltlighting(dot)com).