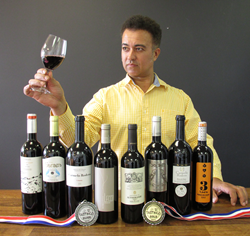 "There is no status in overpaying for wine." Sommelier Robert Bansberg
Chicago, IL (PRWEB) October 15, 2015
With over 530 submissions and 6 weeks of blind tasting during August and September, the Tastings.com offices in Chicago were abuzz with wine judges swirling, tasting, and identifying the flavors and qualities of each individual wine. They were searching for the best wine values in four price categories to help discerning consumers find quality and value at their local wine shop. The price tiers included all styles of wines: $ 8 or less, $10 or less, $15 or less, and $20 or less. Wines submitted to the competition came in from all over the world, representing 11 countries and 59 categories.
Joining the tasting panels was notable sommelier and mixologist Adam Seger @adamseger. Mr. Seger was excited to see great wines from a vast array of varieties and regions. "This year in particular I saw the quality of wine in the price categories improve. There are really good winemakers out there and a lot of surprises, especially in the boxed wine category."
Another notable judge was the 'sommelier's sommelier' Robert Bansberg, a fine wine educator at premier culinary school Kendall College. Mr. Bansberg notes, "America is becoming a wine drinking culture and people want access to their everyday wines. The World Value Wine Challenge is about discovery and finding wines for everyday celebrations. Robert Mondavi is consistently wonderful and New York State's Glenora Gewürztraminer offers a real sense of place."
The 2015 World Value Wine Challenge proved to be a very successful event as affordable wines showed off their remarkable qualities under the toughest analysis. "There is no status in overpaying," says Bansberg. "Buy what you like, but always be open to try new things." Four of the highest rated wines are Salt of the Earth Moscato, Bogle Petite Sirah, Gravel Bar Alluvial Red Blend, and Dr. Konstantin Frank Gewürztraminer. Interestingly, an exceptional value accolade was awarded to a Chinese wine this year. Hansen Winery from the region of Ningxia crafted a Chardonnay that evoked an exotic journey in a glass. Special award winners included, Quady Muscat, Chateau Morrisette Rosé, Black Box Shiraz, Barefoot Sparkling Pinot Grigio and Alamos Malbec, among others. To see the complete listing of the wine competition's results, click here.
About Tastings.com
Since 1981, Tastings has conducted tens of thousands of reviews for wine, spirits and beer to help consumers discover and enjoy the best tasting beverage brands. Tastings' is a professional organoleptic review and marketing company. They experience and rate beverages by taste, sight, smell and touch. Their organized tastings are completed in their Chicago headquarters to minimize any external factors and maximize judges' concentration. Every month, Tastings.com features a new category of wine, beer, and spirits reviews with special focus on value-oriented and unique products they find through their blind tastings. This creates fresh content for consumers and provides sales success for brands. Enjoying over 34 years of trust and community in the adult beverage industry, find out more about Tastings.com. If you are a member of the beverage trade, see how to get your beverages reviewed at their trade site.