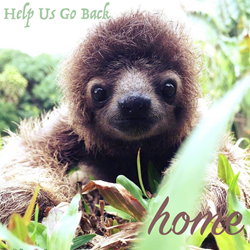 Help Us Go Back Home
Manuel Antonio, Costa Rica (PRWEB) October 06, 2015
The Sloth Institute together with Kids Saving the Rainforest announces the Elementary School Sloth Challenge, inspired by Ms. Megan Yang, 1st grade teacher at West Point Elementary in Surprise, Arizona. Ms. Yang believes in teaching students at a young age about conservation.
"I am using the "adoption" of a sloth as a way to educate students about sloths as well as rainforest conservation. I am hoping by "adopting" Chuck, this will help them become personally invested in rainforest conservation and teach them that if you love wildlife you should keep them in the wild and not as pets", said Ms. Yang.
"We are so excited about what Ms. Yang is doing by inspiring her young students in the importance of the rainforest, conservation and helping with the message that while cute, these sloths are not meant to be pets and they belong in the rainforest. It is through education that we empower our youth to create action and awareness and long-term change", remarked Seda Sejud, co-founder The Sloth Institute Costa Rica. "We hope other all elementary grade classes will join the challenge."
Teachers and their classes can join the October "challenge" to honor Sloth International Day, by "adopting" a sloth and submitting an anti pet (sloth) trade slogan thereby bringing awareness to children about the importance of conservation and anti pet trade policies. To "Adopt a Sloth" and participate in the #elementaryslothchallenge, go to http://www.theslothinstitutecostarica.org/adopt-a-sloth/ and request an e-certificate. The class with the best anti pet trade slogan will win a 20 minute skype session with Sam Trull (featured in the recent PBS Special, "Natures Miracle Orphans") and an orphaned baby sloth being prepared for release.
About The Sloth Institute of Costa Rica (theslothinstitutecostarica.org): The mission of The Sloth Institute Costa Rica is to enhance the well-being and conservation of wild and captive sloths through research and education. TSI is also dedicated to collaborating with sloth rehabilitation programs with a current focus on the sloths at KSTR in Manuel Antonio, Costa Rica. For further information or to donate to this project, email info(at)theslothinstitutecostarica(dot)org or visit http://www.theslothinstitutecostarica.org.
About Kids Saving the Rainforest (kstr.org): Initially started by two nine year-old girls who saw the rainforest disappearing from their beloved home and inspired to save it, Kids Saving the Rainforest (KSTR), a wildlife rescue and rehabilitation facility located in the beautiful rainforest of Manuel Antonio, is dedicated to the rescue, preservation, rehabilitation of the animals of the rainforest. Kids Saving the Rainforest provides tours and volunteer opportunities to help maintain and preserve the magnificence of the rainforest and wildlife that is a vital part of Costa Rica. For more information, visit http://www.kstr.org or email info(at)kstr(dot)org.