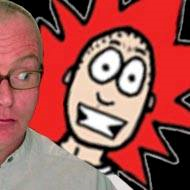 Boston, MA (PRWEB) October 02, 2015
Today marks the official launch of Boston-based The Rabid Monk website and accompanying apparel line. Created by local spiritual guru Brian Collins and inspired by his desire to bring his teachings and messages to the masses, The Rabid Monk brand spreads edgy and inspirational vibes through an "in your face" form of enlightenment.
The apparel line features original cartoons created by Collins which portray inspirational and comedic messages to aid in lifting one's spirit. The website features teachings and guidance from The Rabid Monk with content ranging from cartoons to blog posts to instructional videos, as well as an online store that sells Rabid Monk apparel. A portion of all proceeds from apparel sales will be donated to the non-profit organization Horizons for Homeless Children.
"Being raised in a very tough housing project provided me with many obstacles to conquer - both internally and externally. I know first-hand what it is like to wander in the world feeling lost and confused, seeking answers," said Collins. "I have dedicated my life to restoring balance to people and situations and The Rabid Monk product line is truly an extension of my passion for manifesting good chi."
Collins began his journey on the tough streets of South Boston in the 1970's, but his desire to understand healing, spirituality and martial arts brought him to study energy practices and metaphysical healing methods in exotic locations such as China and Hawaii. Collins opened his office on Boston's trendy Newbury Street in 1997 where he positively impacted his environment through healing and spirituality for 15 years. His work ranged from helping businesses find new levels of balance and success to aiding patients in their fight against addiction, chronic pain, migraines, infertility and much more.
Everyone from Boston residents to national celebrities have benefited from Collins' unique gifts.
"Sessions with Brian, 'aka, The Rabid Monk' are nothing like what you would expect. The world is changing faster than ever, and today we are inundated with information - it can often be hard to see the wood from the trees. Brian, a true spirituality and enlightenment ninja, cuts through all of it and suggests simple and actionable brain exercises that empower you to be intentional and connect with your inner chi."

Dr. Jeff Karp, Principal Faculty at the Harvard Stem Cell Institute and Associate Professor at Brigham and Women's Hospital and Harvard Medical School
"If you like your Zen teachings with a little bit of sarcasm and street, Brian Collins is the man! He's lived many lives from South Boston to the South China Sea and his knowledge and gifts are extraordinary."

"Brian Collins is the Real Deal. The Life Changer. He's a genuine healer, a wise teacher, and a good friend. I should also mention he is one of the most unique and funniest individuals I've ever had the pleasure of knowing. A million miles of gratitude, Brian!"

Whitesnake Bassist Michael Devin
"Brian Collins, thank you for giving me my man back!"

To learn more about The Rabid Monk or purchase some Rabid gear, please visit http://therabidmonk.com/.
About The Rabid Monk:
The Rabid Monk is a Boston-based lifestyle website and accompanying product and apparel line created by spiritual guru and South Boston native Brian Collins.
Collins, affectionately nicknamed "The Rabid Monk" by his dedicated following, has spent his career positively impacting his environment through healing, spirituality and martial arts.
Known for his unique talents and candid wit, The Rabid Monk has captivated the attention of people all over the world who continue to learn and benefit from his guidance. The Rabid Monk product and apparel line features Collins' artwork and spiritual musings and are meant to spread edgy and inspirational vibes, through a "in your face" form of enlightenment.
A portion of all proceeds will be donated to Horizons for Homeless Children. For more information about The Rabid Monk visit: http://therabidmonk.com/.