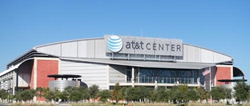 "WC&A has the resources to do great work!" - Des Hague - Partner, WC&A, Inc. and Co-Founder, Aegis Enterprises, LLC.
(PRWEB) October 07, 2015
After Cincinnati's Nippert Stadium and Sun Life Stadium, home of the Miami Dolphins, the Spurs' AT+T Center in sunny San Antonio is the third in the trilogy of major sports venues completed by WC&A's hospitality planning and design team in the past three months. The total renovation budget for all three projects approached $600 million.
Fans will be excited about the newly renovated AT&T Center this season. From a fan amenity experience, it will be "all about food". The general and premium fan will see an exciting transformation on the main concourses and club levels with new food outlets and bars that have a variety of amazing local and international food and beverage offerings.
The two Saddles and Spurs premium clubs will have new large full service bars, new display cooking "action stations" with pizza ovens and "clubs with clubs" for the very exclusive club member. Craft beers, wine, spirits as well as artisan food items make up the very "thematic menu".
Working closely with the San Antonio Spurs, ICON, HOK and the operators, Levy and ARAMARK, the WC&A team developed concepts that would compliment the Center for seasons to come.
"The uniqueness of the San Antonio history, culture and fan were influential as the design unfolded into reality. We are thrilled to be a part of making this dream come true for a very special client," said Steve Young, WC&A Partner and Director of Design.
"We were thrilled to work on three iconic venues in such quick succession. It truly shows that WC&A has the resources to do great work and an incredible bandwidth," stated Hague, Co-Founder of Aegis Enterprises and Partner at WC&A. "We are incredibly fortunate to have a seasoned team in place and we look forward to doing great things in the years ahead especially with our strategic alliance with BBG in Europe," concluded Hague.
The venue will open to fans on Oct. 18.
About WC&A, Inc.:
William Caruso & Associates, Inc. specializes in commercial food/beverage and laundry facilities planning and design services. Headquartered in Denver with offices in Athens, Berlin, Duesseldorf, Philadelphia, San Francisco and Scottsdale, WC&A has completed over 2,400 projects in 22 countries, an unmatched record in a very specialized industry. WC&A's diverse project portfolio includes completed food and laundry service facilities for hotels, universities, schools, correctional systems, hospitals, corporate headquarters, convention centers, stadiums, arenas, and others.
For more information about WC&A: http://www.wcarusoassoc.com
Contact: Renate Siekmann
William Caruso & Associates, Inc.
8055 East Tufts Avenue, Suite 1320, Denver, CO 80237
Phone: 303.649.1600 x211
Email: rsiekmann(at)wcarusoassoc(dot)com
About Des Hague
A renowned executive with over twenty-five years of leading global public and private companies, Des Hague has established himself as an innovative thinker in the international business world. His forward-thinking approach pushes companies toward sustainable growth, granting them a position as resilient competitors within their respective industries. Hague most recently was the CEO and President of Centerplate, Inc, the largest event hospitality firm in North America. source: http://deshague.com . Hague also serves on the boards of DVETelepresence, PING HD, WC&A, Inc, and the Stamford Youth Foundation along with advising on several start-up ventures.
Along with his professional projects, Des Hague contributes significant amounts of time and energy to non-profit charitable work. Hague has helped raise more than $100 million over the past few years for many non-profits, including the Stamford Youth Foundation, a local organization offering multiple after-school programs for young people, and The Journey Home, a Baltimore-based Foundation fighting homelessness. Hague views AEGIS, LLC. as a perfect blending of business and philanthropic activities.
For more about Des Hague, visit: http://deshague.com, http://deshaguereviews.com
Des Hague - LinkedIn : https://www.linkedin.com/in/deshague
Contact:
DesHague.com
EMail: deshague(at)aegisenterprisesllc(dot)com