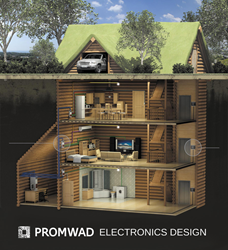 UK (PRWEB) October 03, 2015
Promwad, an independent electronics design center, has developed its own hardware and software platform that cuts the cost and time of designing new devices and applications for the Internet of Things (IoT).
Promwad suggests connecting wearable electronics, mobile and multimedia devices, home electrical appliances, automobiles, as well as lighting and energy supplies for smart homes, to the Internet of Things. The company's ready-made solution is focused on cloud technologies and interaction with Android or iOS smartphones. A mobile phone becomes a universal remote control for a user's personal network: it displays all parameters of connected devices, as well as provides remote access and information exchange via cloud storage.
Promwad's head Roman Pakholkov comments on this development, "We believe that the profitability of projects in the field of the Internet of Things will grow within the next 5-10 years. Today global manufacturers of electronic components offer everything you need for this: highly sensitive sensors, microcontrollers with good performance parameters and ultra-low power consumption, Over the past few years, we have taken part in ten projects within this popular trend – from developing a concept to putting ready-made devices into production. Thanks to this experience, our customers will not have to start a project from scratch, even if they use the latest electronic components."
Promwad's engineering solutions are currently utilized in a mobile plant care gadget by Parrot based in France, a mobile application for the ZIVE personal radiation meter, a portable glucometer paired with Apple smartphones, and other mobile devices.
Below are a few examples of mobile devices and wearable electronics by American and European companies, which were designed in collaboration with Promwad hardware and software engineers:
Parrot Flower Power, a plant care gadget. This device measures lighting, temperature, humidity, and soil fertility, helping users to create optimal conditions for growth and development of their plants. Within this project, Promwad developed a new network device that gathers data from multiple Parrot Flower Power gadgets via Bluetooth low energy, and then sends them to the cloud via Ethernet or Wi-Fi connection. Analyzed results are displayed in iOS and Android mobile applications as specific tips for plant care.
https://app.prweb.com/ViewAttachment.aspx?EID=Ky6d%2f0OemlLwPPh5AYKiztuvPrchEjA7lQOcblFTNM8%3d
Lapka, a set of sensors for an iPhone. All of four Lapka sensors, which include a nitrate meter, a radiation meter, an electromagnetic field meter and a humidity meter, are paired with Apple devices for their operation. They are connected via audio input and display the measurements in a mobile application interface. Promwad designed the enclosure structure, selected the materials, put the initial batch into production and prepared the documentation for mass production.
https://app.prweb.com/ViewAttachment.aspx?EID=Ky6d%2f0OemlLwPPh5AYKizlrjsDz3eIlPb1tr7BcnFi4%3d
Rofes, a device for monitoring human health. The development of this product was commissioned by a company based in Russia. The operation of the device is based on electro-puncture. The device is paired with a smartphone or a tablet and evaluates a person's overall health, psycho-emotional health, functional health and the risk of developing diseases.
https://app.prweb.com/ViewAttachment.aspx?EID=Ky6d%2f0OemlLwPPh5AYKizugX2n2upq8eucblR7cZf7M%3d
For more information on the company's development projects in the field of the Internet of Things, go to http://promwadmobile.com/
ABOUT THE COMPANY
Promwad Innovation Company (http://www.promwad.сom) is an independent electronics design center, a member of IPC International Association, which implements a full cycle of development, involving product concept, industrial design and hardware platform design, software development, testing, certification, prototyping, and mass production support. The company's core specializations are consumer electronics, telecommunications, automotive electronics, industrial automation, media and entertainment.
Promwad's customers are manufacturers of electronics, startups and industry companies in Western and Eastern Europe, USA and Canada. The company's official partners are global vendors of electronic components, such as Texas Instruments, Marvell, STMicroelectronics, Fujitsu and Analog Devices.
Promwad's development center is located in Minsk (Belarus), while the company also has its offices in Vilnius (Lithuania) and Moscow (Russia). The company has a quality management system certified according to ISO 9001:2008.