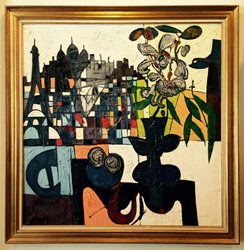 (PRWEB) October 05, 2015
Kaminski Auctions hosted two very successful auctions in the month of September starting with an estate sale on Sept 13th, and a Twentieth Century and Modern Design sale on Sept 27th. Top lots in the September estate sale included a rare pair of Cardeihac parcial gilt master salts, hallmarked with a first standard Minerva head for .950 silver, and weighing approximately 13.7 troy ounces, they were from the private collection of Dorothea M. Beers, Palm Beach, Florida, a noted Palm Beach dealer in Continental porcelain and silver. The master salts sold to a determined phone bidder from the United Kingdom for $11,400.00
Asian highlights included a pair of late 18th or early 19th century Chinese tables with porcelain plaques depicting the Immortals, from a Massachusetts collection that sold for $9,000.00.
Fine art in the sale that sold well included a Spanish portrait attributed to Pourbus in a heavily carved gilt ornate frame that brought $8,400 and a Max Weber landscape that sold for $6,600.
The Twentieth Century and Modern sale on September 23rd brought a whole new audience to the gallery. Top lots included a modernist painting by the French artist Charles Venard titled "Le Fleur Allumee" which was hotly contested and ultimately sold to the Internet for $18,000 and a wonderful signed Steuben copper wheel engraved crystal sculpture entitled "New York, New York," designed by Paul Schulze, 1984, 17" inch high sculpture featured images of the Woolworth Building, Chrysler Building, Empire State Building, and Twin Towers of the World Trade Center. Each building is copper wheel engraved and the piece came with it's original fitted box. It sold for $16,800.00.
A large carved Art Nouveau glass cabinet brought $15,600.00 while a wonderful Bianconi for Venini vase in shades of brown and amber signed "Pezzato Stoccoima " brought $6,600.
Kaminski Auctions' October 11th sale will present a 3-session auction featuring the edged weaponry collection of Vincent J. Vabri, with all lots to be sold unreserved. An avid collector Mr. Vabri (1919-2001) spent 30 plus years amazing a phenomenal array of weapons from all over the world including rare swords, knives and daggers.
Session two of the auction is dedicated to African and Tribal artifacts and features a Ngil type Fang mask, carved and painted, with and elongated face, from Gabon, 22.25" h x 6.5"that was published in "Masks of Black Africa," by Ladislas Segy, figure 198 valued at $3,000-$5,000 and from Papua New Guinea.There will also be the monthly estate auction.
Preview for this sale is Thursday through Saturday, October 8th -10th, 10:00am -5:00pm and starting at 8:00 am October 11th the day of sale. For more information and to sign up to bid with KaminskiLIVE go to http://www.kaminskiauctions.com.