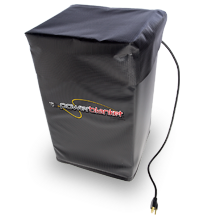 "The nature of spray-foam application is a matter we've devoted a lot of attention to. That's how we came up with our Spray Foam Box Heaters. These easy-to-use devices make spray-foam application possible year round." Nate Evans
Salt Lake City, UT (PRWEB) October 03, 2015
Powerblanket recently announced that they will be attending the 2015 ICAA Convention & Tradeshow. Along with the company's attendance, of course, will be the showcasing of their innovative commercial foam insulation heating solutions. The expo runs from October 1st through the 3rd at the Red Rock Resort in Las Vegas, NV at 11011 W Charleston Blvd.
The ICAA (Insulation Contractors Association of America) Convention and Tradeshow offers professionals in the market of insulation contracting a myriad of resourceful information and tools. Education sessions and expert advice on trends and technologies for the contractor are a big part of the ICAA show. This year's show will have the additional contribution of Powerblanket technologies to both discuss and demo. Powerblanket produces industrial-grade heating solutions that are helpful in accommodating insulation application year round.
Powerblanket 55 gallon drum heaters allow for the storage and temperature-sensitive products at ideal temperatures, regardless of climate changes. This, along with the Powerblanket, custom Spray Foam Box Heaters, makes for an impressive and important display of integral technologies for the insulation contractor.
"The nature of spray-foam application is a matter we've devoted a lot of attention to," said Nate Evans, Marketing Director at Powerblanket. "That's how we came up with our Spray Foam Box Heaters. These easy-to-use devices make spray-foam application possible year round."
Year-round business continuity for the insulation contractor is a real plus, and Powerblanket products aim to make it a very easy and feasible reality. So be sure to look for the Powerblanket booth at this year's ICAA Convention and Tradeshow.
More about Powerblanket
Powerblanket® started in 2005 in Salt Lake City, Utah with one goal – to solve your heating problems. Featuring patented GreenHeat™ technology, Powerblanket delivers a barrier of uniform, directional heat where it's needed most – preventing fluids from freezing and maintaining optimal temperatures. This Innovative heat-spreading technology insulates, protects, and maintains heat in a wide variety of applications. Discover how our GreenHeat™ Technology can dramatically improve your output…and bottom line. For more information about Powerblanket, click here.