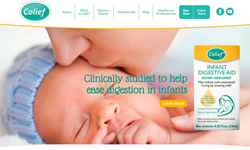 Colic is an issue that is surprisingly not well understood by consumers, and not always taken very seriously by healthcare professionals.
Gaithersburg, MD (PRWEB) October 07, 2015
Recently licensed for U.S. distribution by Sigma-Tau Pharmaceuticals, Colief® Infant Digestive Aid now sports not only a new package, but a new website (http://www. ColiefUSA.com) for consumers and healthcare professionals. The product, which is used by breastfeeding moms as well as those feeding their infants formula, originated in the UK to target colic-associated crying from temporary lactose intolerance (TLI) in infants and is available at Walgreens stores nationwide.
"Colic is an issue that is surprisingly not well understood by consumers, and not always taken very seriously by healthcare professionals," says Mary Ocnean, Vice President of consumer products at Sigma-Tau Pharmaceuticals. "When we took over the Colief brand in the U.S. this past year, we wanted moms to know right away at the shelf that this is a product that may help infants with TLI to digest milk.
Ocnean adds, "A large percentage of these infants who cry excessively after feedings – sometimes for hours on end – have difficulty digesting the milk due to a temporary inability to digest the lactose in breast milk or formula. Unlike many other OTC colic products, Colief is added to the milk before the baby feeds rather than after the problem occurs, thereby aiding in digestion and limiting the resulting discomfort in those infants whose problem is caused by TLI." Sigma-Tau Pharmaceuticals believes that changing the U.S. package will aid parents coming to the store with this issue understand better how Colief Infant Digestive Aid may help them.
In redesigning the Colief U.S. website, Ocnean says, "We wanted to create a website where new moms could feel empowered, understood and armed with helpful information. It doesn't matter if it's your first or fifth baby, if your baby has colic, you are stressed, tired and in need of support and credible information to help you understand what's going on."
She continues, "It's so important for new moms to know that they are not alone in their struggle with excessive crying or colic, and we're happy to share with them unbelievably passionate stories and videos of real moms and what they went through with their newborns."
In addition to emotional testimonials from other new moms on the newly designed site, consumers will find a range of helpful information in the Mommy Diaries section, including the inside scoop on what no one ever tells first-time moms and frequently asked questions from New Jersey-practicing pediatrician, Lydia Charles, M.D. There are also a variety of educational pages that offer in-depth information about colic and infant digestion, as well as information about Colief Infant Digestive Aid and how it may help. For healthcare professionals, the new website offers an enhanced navigation experience, providing the opportunity to order Colief Infant Digestive Aid samples, coupons and informational packets for their patients on a regular basis, making it easier for them to support their new mom patients struggling with infant colic associated with TLI.
Sigma-Tau Pharmaceuticals has a long-standing, successful track record with the gastrointestinal/digestive product, VSL#3, a leading high-potency probiotic medical food for the dietary management of IBS, ulcerative colitis and ileal pouch. "We are thrilled to support the Colief brand's direction in the U.S. with both the launch of the new package and with the look and feel of a new website," states Ocnean. "It's our mission to establish the ColiefUSA.com website as a valuable resource for moms caring for babies with colic-associated crying from TLI, as well as expecting moms who want to arm themselves with as much knowledge as possible, and our new website is a strong resource and proponent of that message."
Colief Infant Digestive Aid is available at Walgreens and online at http://www.ColiefUSA.com for the suggested retail price of $19.95.
For more information, visit the new site at http://www.ColiefUSA.com and join their Facebook community for more helpful tips and great giveaways at [http://www.Facebook.com/ColiefInfantDrops.