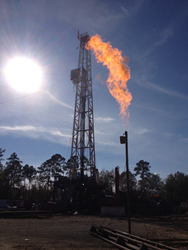 (PRWEB) October 06, 2015
Choice Exploration, Inc., announced today the discovery of 3 consecutive wells in its gulf coast drilling program in Southeast Texas. The company has utilized the latest seismic processing and interpretation techniques to identify all three prospects.
The Olympia # 1 logged 46 feet of pay on June 4th and is currently in sales averaging 1.2 million cubic feet of natural gas per day and 50 barrels of oil per day. The Miles # 1 logged 20 feet of pay on July 21st and is currently waiting on hook up to be turned to sales after testing 1.7 million cubic feet of natural gas per day. The R.E. Odem 192-1 logged 16 feet of pay and will be tested and hooked up after fracture stimulation.
Choice plans to commence drilling of its next 4 wells in the gulf coast starting late October with its Cobalt prospect. LLOG Exploration, LLC is a 50% working interest owner in the Cobalt prospect and a 50% working interest owner in the Langham # 2 and # 3 wells that are to be drilled.
The company also plans to further develop its marble falls acreage in Jack County, Texas and has identified 2-3 additional locations that are expected to spud prior to the end of the year. In addition to Choice's prolific gulf coast program, we are pleased to announce several recent successes in the Anadarko Basin with partners such as Mewbourne Oil Company and Apache Corporation. Two recent horizontal wells have been brought online at an average of 467 BOPD and have reached a combined aggregate production of approximately 66 thousand barrels of oil in their first few months of operation. With that success, the company plans to drill one development well on its existing leasehold prior to the end of the year in Roberts County, Texas, and apply a similar completion technique that has been successful on the company's Fort Worth Basin acreage. Significant upside remains for Choice's Anadarko Basin assets.
The recent downturn in the industry has given the company a window of opportunity to capture key acreage at below historical market prices, build the company land position, drill and complete wells at up to 50% less than costs were just 12 months ago. While other companies are downsizing, Choice is committed to developing domestic reserves through the utilization of the latest seismic interpretation techniques and utilizing the last in completion technology to prove up and produce bypassed pay zones. http://www.choiceexploration.com.