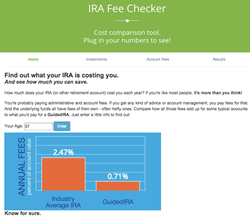 We think investors deserve to know what they're paying, and understand what they're getting in return.
La Jolla, CA (PRWEB) October 02, 2015
GuidedChoice, an industry leader in providing high-quality investment advice, planning tools, and managed account services to retirement plans and individuals, has launched a free online service to give IRA and some 401(k) investors more transparency about fees. The new IRA Fee Checker gives account owners a quick, easy way to see how much they're paying in fees, and offers a comparison to the company's low-cost managed alternative. GuidedChoice selects from all available mutual funds to develop cost efficient personalized portfolios.
"There's always been a debate about what level of fees are appropriate for a given investment account," says GuidedChoice CEO Sherrie Grabot. "Unfortunately, the investor is sometimes left out of the conversation, because too often they don't have a clear understanding of how much of their savings goes toward fees. We think investors deserve to know what they're paying, and understand what they're getting in return. Clarity of costs always benefits the consumer."
The IRA Fee Checker app addresses two areas: investment fees and account fees. Investment fees charged by the various funds in a portfolio make up the bulk of IRA fees, with some actively-managed funds routinely charging more than one percent. In an IRA environment in particular, "distribution fee" incentives tend to drive rollover investors toward higher-fee funds. Account fees charged for the IRA itself are usually less significant but can still be substantial, especially for an advisory component or a high level of personalized service.
GuidedChoice's new app highlights the total impact of these fees. Using publicly available data driven by user inputs, and without storing any personal information, the service estimates the total annual fees the user pays for their IRA as a percentage of account value. For comparison, this amount is shown next to the equivalent fees for the company's own GuidedIRA product.
Because some retirement investors choose to retain existing 401(k) accounts instead of rolling them over, the tool can also be used to monitor expenses in a 401(k) as well. The comparison is most useful for "legacy" accounts to which the investor is no longer actively contributing.
As Grabot notes, "for some investors, the quality of what they receive may represent good value for what they're paying. For others, it's an unpleasant surprise to learn that their account is costing them more than they'd pay for an IRA with a lifetime of professional investment advice and management built in. Either way, we hope the experience empowers the individual investor, and serves as a wake-up call if necessary."
IRA Fee Checker adds to the suite of highly personalized products GuidedChoice offers to the retail retirement investor, which also include its flagship GuidedSavings offering, and its innovative GuidedSpending retirement income service. The app is available on the company's website at GuidedChoice.com/ira-feechecker.
About GuidedChoice
GuidedChoice is an independent investment advisory firm specializing in investment advice, planning tools, managed account services, and strategic solutions for institutional retirement plans, financial advisors and individual investors, including many of the largest defined contribution plans in the U.S. For more information, visit http://www.guidedchoice.com.