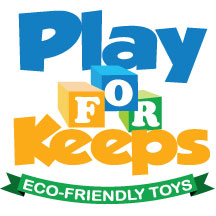 "We believe that toys are a vital part of every child's life. A great toy facilitates learning and fun by sparking the imagination. We want to spark that imagination with the safest, highest quality, most environmentally friendly toys we can."
Saint Louis, Missouri (PRWEB) October 06, 2015
Play For Keeps Toys, an eco-friendly online toy store, celebrates two years in business this October. Specializing in BPA, PVC, and phthalate-free toys for children, Play For Keeps Toys also offers a wide selection of toys that are made in the USA.
Over the last two years Play For Keeps Toys has partnered with many innovative toy manufacturers to offer toys made from materials such as 100% recycled plastic, organic cotton, sustainable wood, and recycled fibers. Many of these toys are packaged with recycled materials printed with soy ink or are produced in conjunction with a program designed to plant 2 trees for every 1 used. In addition, Play For Keeps Toys uses recycled packaging materials whenever possible.
"We believe that toys are a vital part of every child's life. A great toy facilitates learning and fun by sparking the imagination. We want to spark that imagination with the safest, highest quality, most environmentally friendly toys we can," said Wendy Lashley, of Play For Keeps Toys.
In preparation of the 2015 holiday season, Play For Keeps Toys will be adding new products to their website. "We are in the process of adding more items manufactured in America, more educational toys, and we are also expanding our section of eco-friendly kids tableware." said Lashley. "It is important for us to offer a variety of safe toys and products for children of all ages."
Located outside of St. Louis, Missouri, Play For Keeps Toys is family owned and operated and ships worldwide via their website, http://www.PlayforKeepsToys.com