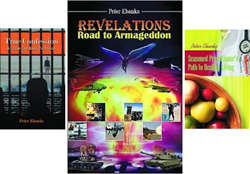 (PRWEB) October 12, 2015
"Revelations: Road to Armageddon" begins here: From the beginning of time, man has questioned where he came from. The human race is the creation of God, who created mankind in His own image. Therefore, man could not have evolved from animals as some say, according to the author.
Ebanks believes, "Mankind is the greatest creation of God. In fact, the way man developed technology is proof of this. Humans can do just about anything, while animals do not have the same abilities."
In the book, the author outlines his position that human DNA cannot change, nor can animal DNA change from animal to human DNA. He states that mankind has found it hard to live in harmony and with unselfishness, and instead has waged war throughout the ages. It is his contention that this fighting led to the great war of the superpowers in the modern world, an event that is found in Revelations and predicted in the Bible. In the end, he believes that after the battle of Armageddon, mankind will finally reunite and live in harmony.
Watch the video at: https://www.youtube.com/watch?v=6FQ0_dRYdCk&feature=youtu.be
The second book, "True Confession: A Close Call Back to Prison," is the true story of the author's battle to reclaim his soul. Peter ended up in prison after being caught with cocaine, and barely missed going to prison a second time for stealing from the power company he worked for. He is currently trying to pay off the back fees he owes the power company and is making peace with the world.
"Seasoned Practitioner's Path to Healthy Living" relates the experiences of Adam, a well-seasoned medical practitioner who gained his expertise from medical courses, books, and medical encyclopedias. He has lectured physicians all over the world about his successes using natural hormones and nutritional therapies. This book exposes drugs on the market that don't work, and the natural therapies that do!
Called "The Miracle Doctor," read the ways Adam treats his patients and the miraculous results he has had for cancer patients. Discover why people can't live without iodine or salt; learn about the miracle of natural hormones; how to overcome arthritis and thyroid disorders; and get guidance on gluten-free and dairy-free diets.
REVELATIONS: ROAD TO ARMAGEDDON (ISBN: 978-1-68256-000-6) is now available for $5.59. Order directly through the author at neville.faulknor(at)outlook(dot)com and receive a 30% discount.
TRUE CONFESSION: A CLOSE CALL BACK TO PRISON (ISBN: 978-1-68256-016-7) is now available for $7.59, and SEASONED PRACTITIONER'S PATH TO HEALTHY LIVING (ISBN: 978-1-68256-012-9) is now available for $7.59.
All three books can be ordered through the publisher's LitFire Publishing website:
https://books.litfirepublishing.com/books/.