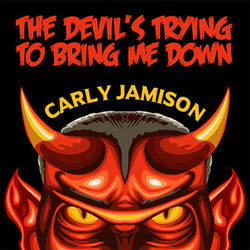 a Southern influenced song about redemption that calls to mind great storytellers such as Robert Johnson and Bob Dylan
New York, NY (PRWEB) October 02, 2015
Indie songwriter and recording artist Carly Jamison participated in the first ever live-streamed professional recording session from the Nashville area this past summer. Without any advanced marketing or promotion, over 5000 people around the world tuned in to the session on the Meerkat streaming app to watch as it happened live. Five new songs, all written by Jamison, were recording during that session. She has announced that the first is ready for release and is a Halloween song entitled "The Devil's Trying To Bring Me Down".
She said. "I wrote the song as a traditional type folk song with verses that progressed a story. It's a story about the devil, the kind you'd hear in old blues records. I kept hearing a rock guitar riff in my head as I was writing it, so I knew it had to proceed in that direction. It ended up being a really unique combination of all three influences."
The single was produced by Tres Sasser who said, "Start with an amazing song and fill in the rest - that was my thinking this time around, much looser than normal. There wasn't a whole lot of preproduction. I heard the song beforehand and knew I wanted a spontaneous approach to the recording process. When you've got a song this cool you just get out of the way and let it do its thing. The band and Carly just seemed to fall into a swampy groove as we took this song down South. It's definitely a Southern influenced song about redemption that calls to mind great storyteller songwriters such as Robert Johnson and Bob Dylan."
Recorded at The Sound Shelter in Franklin, TN, players on the track include Chris Tench on guitars, Tres Sasser on bass, Elton Charles on drums, and Mike Webb on keyboards, with background vocals provided by The Shelter Sisters. It was engineered by Brett Ryan Stewart and mixed by Joe Costa. It was mastered by Pete Lyman at Infrasonic Mastering who is known for his work with Jason Isbell, Courtney Love, Fall Out Boy, Sturgill Simpson, and many others.
Released by OK!Good Records, founder Jurgen Korduletsch stated, "It's nice to work with an artist that is not afraid to push genre boundaries or be experimental with new concepts. While we're entering uncharted territories with live streaming, streaming services, and non-traditional release schedules, we're actually returning to a pre-1970's type singles market where strong songs really matter. This is a really strong song."
For more information, and to listen to "The Devil's Trying To Bring Me Down", visit Carly's website at http://www.carlyjamison.com.
Contact OK!Good Records at http://www.okgoodrecords.com/contact-us/ for a free download for your playlist.