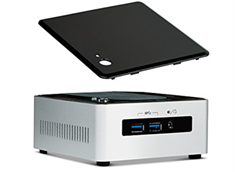 Westlake Village, California (PRWEB) October 05, 2015
MediaSignage, Inc., provider of enterprise and entry-level digital signage hardware and software is excited to announce the release of a the latest version of its Windows-powered mediaBOX, V3. The latest mediaBOX digital signage player runs both faster and cooler than its predecessor, making it better prepared to handle some of the rigors associated with various digital signage installations.
In addition, the company has developed a new collection of components for the StudioLite, the company's easy-to-use, entry-level software product. These new components allow users to quickly and easily drag and drop content, produce time-sensitive schedules and prepare a digital sign or digital menu board quickly and easily.
"We're really looking for ways to eliminate any and all excuses for why a particular retail or out-of-home establishment doesn't have some type of digital signage," says Nate Nead, company President.
"Most of our customers aren't paying customers, but we also provide them with most of the features they need to get started. It's a virtual no-brainer," he says. "When they do eventually get started, it's only $99/month with no contract."
New product releases are expected soon, including an integration with AWS CDN CloudFront, which will add 10+ new locations worldwide, allowing for faster server and connection speeds at more remote locations. Interested users and potential users are invited to stay tuned as the company continues the release better features which will provide more flexibility for both resellers and integrators alike.
"We're extremely excited about these new releases," says Nead. "We expect them to further enhance the existing experience among our growing and loyal userbase."
About MediaSignage, Inc.
MediaSignage, Inc. was founded in 2008 by technology entrepreneurs who wanted to create a different kind of digital signage company. They wanted to ensure their their software would include all of the features available to the Fortune 5000, but at a fraction of the cost. The company successfully built the first freemium-based digital signage software service. Since, then, the company has expanded its reach to include tens of thousands of screens in over 130 countries. The business is based in Los Angeles, California and Bellevue, Washington.