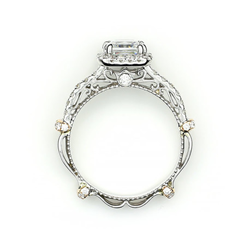 Andrews Jewelers and Verragio is the perfect partnership for today's bridal consumer.
Buffalo, NY (PRWEB) October 03, 2015
Andrews Jewelers, a large bridal jeweler in the Buffalo, NY marketplace has enjoyed a 25% sales growth of its Verragio products for each of the last 4 years. Stronger support from its staff members and an effective digital marketing campaign being delivered by Verragio has amounted to increased consumer awareness. This digital campaign is based largely on Pandora radio advertising delivered each month to the Buffalo, NY and Rochester NY markets. "The staff members simply adore the look and feel of Verragio's engagement and wedding ring styles, when coupled with an innovative approach to speaking to millennials it can only amount to success," states Andy Moquin of Andrews Jewelers.
Previous trends in the bridal jewelry category included mostly vintage inspired designs led by companies such as Tacori, Simon G., and others. Verragio appears to have embraced a much different notion of jewelry design leading the pack with bold original styles that haven't been done by any other jewelry designer. Andrews Jewelers recognized the need for freshness in the category and saw potential in the Verragio product line immerge as they began to release new engagement ring styles. Since then, they've added over 50 new engagement & wedding ring styles to their physical store location in Williamsville, NY. These new items can be viewed when visiting http://www.andrewsjewelers.com/catalog/engagement-rings where their online catalog is located.
"While adding new styles and merchandising the product is helpful, our staff understands that it requires a larger effort. One that involves a grass roots approach to selling and supporting the product line. They've been instrumental in showing and selling the product with passion," said Moquin. Andrews Jewelers has invested much time in the area of product knowledge training in order to give it's staff the tools needed to sell more rings. In addition, the retailer has made aggressive moves to bring in better cut diamonds with sought after laboratory reports from the Gemolocial Institute of America. Moquin states, "Competitively priced diamonds with GIA reports has helped tremendously too, when a consumer selects such a remarkable setting it only seems fitting to place the nicest diamond possible in the middle."
About Andrews Jewelers:
Andrews Jewelers was founded in 1995 by jewelry designer Andy Moquin, they're located in the heart of Williamsville, NY. Product offerings include engagement rings, wedding rings, Verragio, Sylvie, and loose diamonds. You can find more information about the company at http://www.andrewsjewelers.com
Media Inquires:
Andy Moquin
President
Andrews Jewelers
716-630-7091