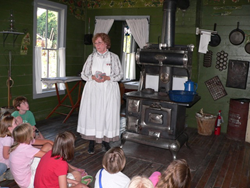 Once roamed by dinosaurs, Grand Junction. located just a few hours west of Denver, was formed by native peoples, westward exploration and expansion, industry and numerous influential citizens
(PRWEB) October 07, 2015
No trip to Grand Junction would be complete without experiencing the destination's ancient and historic past. Once roamed by dinosaurs, this charming community, located just a few hours west of Denver, was formed by native peoples, westward exploration and expansion, industry and numerous influential citizens. Grand Junction's rich heritage and artifacts are waiting to be discovered. Here are six ways visitors can bring the past to life.
Dig for Dino Bones at Dinosaur Journey Museum. Dinosaur Journey tells the story of the history of life in western Colorado and surrounding areas with real fossils, cast skeletons and robotic reconstructions of dinosaurs. The hands-on, interactive museum includes paleontology displays, a working laboratory where dinosaur bones are prepared for display, a collections room where scientists study dinosaurs and other animals, a simulated earthquake ride, a dinosaur library reading area, a sandbox for making your own dinosaur tracks and a "quarry site" where kids can uncover actual Jurassic dinosaur bones.
Discover Rock Art at the The McDonald Creek Cultural Area. When the Fremont and Ute Indian Tribes left the Grand Valley in the late 1800s, they left behind numerous examples of colorful rock paintings and canyon carvings. Some of the unexplained rock art can still be spotted today at areas including The McDonald Creek Cultural Area which lies within the boundaries of the Bureau of Land Management's McInnis Canyons National Conservation Area, Rabbit Valley, west of Grand Junction.
The scenic area encompasses 123,430 acres, 75,500 of which are in the Black Ridge Wilderness. The special "Cultural Resource Management Area" designation was applied to protect the fragile prehistoric archaeological sites found here. Visitors will not find trails or signs pointing to locations of the rock art for respect of this special place, and for the people who lived here and the traditions they lived by.
Ride with the Wild Mustangs. Experience a taste of the Old West, where herds of horses freely roamed the rugged landscape. Forget your standard trail ride. Rimrock Adventures, based west of Grand Junction in Fruita, Colorado, offers a "Wild Horse Sanctuary Ride" in the Little Book Cliff's Wild Horse Preserve which encompasses more than 35,000 acres of rugged canyons and plateaus, and is home to between 80 and 120 wild mustangs. It is one of only three ranges in the United States set aside specifically to protect wild and free roaming horses.
Celebrate 100 years of the National Parks Service at the Colorado National Monument. The National Park Service will celebrate its Centennial in 2016 with a variety of special events and programming beginning summer 2015 and leading up to the anniversary in August 2016. Explore the Colorado National Monument and soak in one of the grand landscapes of the American West. Towering monoliths exist within a vast plateau and canyon panorama that is only a few minutes from Grand Junction. Visitors can experience sheer-walled, red rock canyons along the twists and turns of Rim Rock Drive, mesmerizing hiking trails, fantastic photo opportunities, wildlife sightings that may include desert bighorn sheep and soaring eagles.
Explore the Museum of the West. Step into an adobe dwelling filled with artistic ancient Native American pottery. Follow the history of the weapons that tamed the west. Venture into a uranium mine where drilling and blasting through solid rock shake visitors back to the "boom" of the 1950s. The Museum of the West, part of the Museum of Western Colorado's properties, offer visitors exciting new exhibits that educate and entertain and a wealth of historical, genealogical and natural history materials in the Loyd Files Research Library.
Step Back in Time at Cross Orchards Historic Site. Experience early pioneer life first person in western Colorado. The Red Cross Land and Fruit Company was established in 1896 and operated a massive orchard on the site until 1923. Today, Cross Orchards is listed on the National Register of Historic Sites and Places. The original packing shed and bunkhouse have been preserved, and a summerhouse and blacksmith shop have been reconstructed and are brought to life with costumed interpreters at the Museum of the Western Colorado's Cross Orchards Historic Site.
About Grand Junction (http://www.visitgrandjunction.com). Grand Junction is Colorado's Wine Country featuring 22 wineries with year-round tasting rooms, and boasting more than 275 days of sunshine annually which helps produce much of the state's peach and fruit crop. It is the largest city in Western Colorado, located near the Colorado River between Salt Lake City and Denver on Interstate 70. At an altitude of 4,586 feet, warm summers and moderate spring, fall and winter seasons allow for year-round golf, hiking and world-renowned biking. Among Grand Junction's spectacular red cliffs and winding canyons are the 11,000-foot Grand Mesa, the world's largest flat-topped mountain, the 7,500-foot Book Cliffs including the Wild Horse Area, and the 7,000-foot Colorado National Monument. Other attractions include three national scenic byways, rafting, hunting, fishing, extensive public art displays, museums, and a vibrant downtown. Grand Junction lies in the heart of the Colorado-Utah Dinosaur Diamond and the Grand Circle.