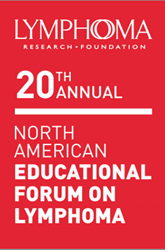 New York, NY (PRWEB) October 02, 2015
The Lymphoma Research Foundation (LRF) – the nation's largest non-profit organization devoted exclusively to funding innovative lymphoma research and serving the lymphoma community through a comprehensive series of education programs, outreach initiatives and patient services – will host its 20th Annual North American Educational Forum on Lymphoma from October 2-4, 2015, at the New York Marriott at the Brooklyn Bridge. This two and a half day program represents the most comprehensive lymphoma-specific educational conference in North America and is widely considered the nation's premier lymphoma patient education program, providing patients with critical information on treatment options, support issues, clinical trials, and the latest advances in lymphoma research.
This year's North American Educational Forum seeks to bring patients and their loved ones together with leading researchers, clinicians, and industry experts, as both a critical learning experience for anyone facing a lymphoma diagnosis, but also as a celebration of how far the lymphoma community has come over the past two decades.
"This has been a historic year for the lymphoma research community, and I'm thrilled to say that the momentum behind the pace of lymphoma research has never been greater in the last twenty years," said Dr. Leo I. Gordon, MD, FACP, Abby and John Friend Professor of Cancer Research, Professor of Medicine, Director Lymphoma Program, Medical Director John and Lillian Mathews Cellular Therapy Laboratory, Division of Hematology/Oncology at the Robert H. Lurie Comprehensive Cancer Center, Northwestern University Feinberg School of Medicine and current Chair of the LRF Scientific Advisory Board. "However, with all of these new advancements, it is even more imperative that programs like these serve as the central hub of learning for patients and their loved ones, so that they can be empowered with the most up-to-date information available in order to take charge of their care and treatment."
Participants will have the chance to learn from disease-specific educational tracks, expert panel presentations, new therapy and clinical trial informational sessions, and networking opportunities.
This year's special anniversary program is co-chaired by six of leading names in the lymphoma research community, including Joseph R. Bertino, MD – Rutgers Cancer Institute of New Jersey; Bruce D. Cheson, MD, FACP – FAAAS Georgetown University Hospital, Lombardi Comprehensive Cancer Center; Richard I. Fisher, MD – Fox Chase Cancer Center, Temple University School of Medicine; Leo I. Gordon, MD, FACP – Robert H. Lurie Comprehensive Cancer Center of Northwestern University; John P. Leonard, MD – New York Presbyterian Hospital, Weill Cornell Medical Center; and Oliver Press, MD PhD – Fred Hutchinson Cancer Research Center, University of Washington Medical Center. All of this year's honorary co-chairs have served the lymphoma community, not only through their tireless efforts as researchers and clinicians, but as past and present chairs of the Lymphoma Research Foundation's Scientific Advisory Board, as well.
"Every year we are pleased to be able to provide this unique educational program," said Meghan Gutierrez, LRF Chief Executive Officer. "With more than 80,000 people newly diagnosed in the United States annually, the knowledge and networking that this program affords people is unparalleled and increasingly critical."
For more information and to register for the North American Educational Forum, visit lymphoma.org/edforum or call (800) 500-9976. For more information about lymphoma, including disease-specific resources, visit lymphoma.org.
About the Lymphoma Research Foundation
The Lymphoma Research Foundation (LRF) is the nation's largest non-profit organization devoted to funding innovative research and serving the lymphoma community through a comprehensive series of education programs, outreach initiatives and patient services. To date, LRF has awarded more than $56 million in lymphoma-specific research. For additional information on LRF's research, education and services, visit lymphoma.org.
###