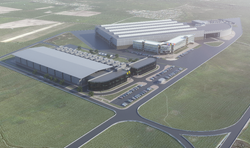 St.Petersburg, Russian Federation (PRWEB) October 05, 2015
Data Center Stackdata.net (SDN) announced the addition of a fourth data-hall to its facility in St.Petersburg. The data center is now operating a colocation facility of a total of 617 racks, which makes Stackdata.net the second largest data center in North-West Russia. Stackdata.net is designed and built on its own land of 7.54 acres, in accordance with TIA-942 requirements to TIER–III standard.
Along with the expansion of the white space, the data center has received PCI DSS 3.1 Certification, which guarantees its customers full protection of sensitive financial data and safeguards for credit and debit card transactions through advanced technical and security measures. Currently, Stackdata.net is now ready to accommodate international companies that transfer personal data of Russian citizens into the Russian Federation in accordance with the 242-State Law.
"The data center is expanding along with the growth of its customer base," says the head of Stackdata.net Andrey Eliseev. "Demand for our services is growing due to their high reliability and low costs. By the end of 2015, we will add two more data halls and exceed the capacity of 1000 racks. We look forward to providing services for international companies, which in the end of the year will start to transfer the personal data of Russians into the Russian Federation. For our partners in Europe, America and Asia, we have prepared tailor-made solutions for the migration of their equipment, as well as exclusive prices for colocation and connectivity."
About company:
LLC "SDN" (Stackdata.net) is the owner and provider of data center services, with a designed total capacity of 1476 racks, a power supply of 14 MW (up from 10 MW at the start of operations), a white area of 6500 m2, and customer office spaces and staff rooms of 1500 m2. The engineering infrastructure of the data center at the time of full operations will include 8 diesel-rotary UPS 15 free-cooling units, and two independent inputs of 110/10 kW. The project is being implemented in phases. Investment support is provided by one of the leading financial institutions of Russia, Vnesheconombank. PCI DSS certificate # EC-14-257A1/CC-49 of July 7, 2015. Winner of the Russian Data Center Awards 2015 prize as the best solution in the field of cooling.