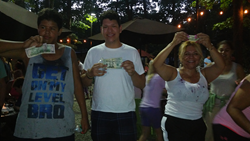 Toms River, New Jersey (PRWEB) October 02, 2015
Surf & Stream Campground wants campers to know how much they will be missed in their final campground newsletter of the 2015 season. The seasonal publication, also called The Surf News, highlights campground activities and upcoming area events for guest's enjoyment. Available in print and online, the final edition for 2015 will be released this week capturing the most memorable moments of the summer.
Visitors are encouraged to subscribe to Surf & Stream Campground's monthly industry newsletter, Surf Camp-Out News, featuring camping industry and local outdoor news. For more information, go to their website at http://surfnstream.com/.
About Surf and Stream Campground
Surf & Stream Campground is a family-friendly RV park located near all of the most popular beaches at the Jersey Shore. The campground includes a full-size swimming pool, picnic area, activities for all ages, weekend events and more. For more information about Surf & Stream Campground, visit their website at http://www.surfnstream.com or call 732.349.8919.