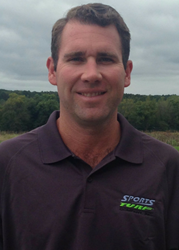 It is an honor to work with Sports Turf. I am looking forward to being part of this great team.
Whitesburg, GA (PRWEB) October 07, 2015
Vince Muia joined the Sports Turf team in August 2015. As a Project Development Associate, he will help manage their sales pipeline, seek new markets for expansion, and encourage open communication within the markets they serve.
Vince attended the University of Georgia in Athens, GA, where he earned a bachelor's in Turfgrass Management and a master's in Agricultural Leadership, Communication, and Education.
He began his career with Jack Nicklaus Golf Course Design and assisted with construction of courses in South Carolina, Wisconsin, and Georgia. Vince went on to work at some of the most iconic golf courses in the USA…Jupiter Island, Seminole, and Sea Island.
From 2010 to 2012, Vince focused his work in sports turf at The University of Georgia while earning his master's degree. Most recently, he served as the Athletic Grounds Manager for the University of Miami in Coral Gables, FL. While there, he managed all Division-1 Athletic fields for the UM Athletic Association.
"I was first attracted to Sports Turf by the scope of the work we do," comments Vince. "In addition to the natural grasses we develop, we also install synthetic turf, tennis courts, and even track and field surfaces. The wide variety of options that we offer, together with the professionalism and quality of the work, virtually guarantees the right solution for the customer. And, having been a customer of Sports Turf these past several years, I know first-hand just how important it is to have a caring and competent sports turf partner."
"I feel like I have come full circle," Vince continues. "I came to know of Sports Turf when I was finishing my Master's degree at The University of Georgia's College of Agriculture. They were working on several projects on the Athens campus. I saw how the projects developed over time and their attention to detail. Now, here I am, a member of that very same company. It is an honor, and I am looking forward to being a part of this great team."
Dan Wright, Vice-President of Sports Turf, says, "We believe Vince will be a valuable addition to our team. His varied background and advanced training in communications and leadership will help us reach out to new markets and provide even better service to our existing customers."
About Sports Turf
Sports Turf received the 2014 Field Builder of the Year Award from SportsField Management Magazine. They have completed more than 800 renovations and construction projects over their 20 year history, including projects at Mississippi State, Auburn University, University of Alabama's Bryant Denny Stadium, the 1996 Olympic Softball Fields in Columbus, GA, and the Atlanta Falcons' training facility in Flowery Branch, GA. They hold contractor licenses in Georgia, Tennessee, Alabama, Mississippi, and Louisiana.