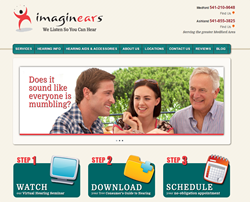 Medford, OR (PRWEB) October 05, 2015
As one of the primary senses, hearing is a large contributor to overall well-being and quality of life. While it's easy to take for granted, the ability to hear plays a significant role in our mental, social, and even physical health.
Hearing loss, while capable of reducing overall quality of life, is in most cases highly treatable. And correcting hearing loss can provide several health benefits that recent research is continuing to uncover.
The most obvious advantage to better hearing is enhanced relationships. Communication is the foundation for any healthy relationship, and hearing loss has been shown to compromise the ability to communicate. Hearing loss creates a barrier between people, resulting in misunderstandings, frustration, and unnecessary stress. In fact, relationship problems, often between spouses, prompt many people to schedule their first hearing test.
Hearing loss also has less obvious consequences. Studies by Johns Hopkins University have uncovered links between hearing loss and general cognitive decline, memory problems, and even dementia and Alzheimer's Disease. Hearing loss has also been linked to depression, as reported by the National Institute on Deafness and Other Communication Disorders (NIDCD).
But research has also shown that correcting hearing loss with hearing aids leads to several positive health benefits. Wearing hearing aids reduces the risk of depression and cognitive decline and improves communication ability and relationships. In addition, hearing aid users report general levels of satisfaction with their hearing aids and many claim that hearing aids make them more active.
According to Imaginears, the combination of mental, physical, and social benefits of wearing hearing aids can drastically improve overall quality of life and general health. Although hearing loss is prevalent across the US, with modern advances in hearing aid technology most cases can be effectively treated.
The full article can be read in its entirety at http://www.imaginears.com/the-health-benefits-of-better-hearing/.
About Imaginears
Imaginears is a full-service audiology practice located in Oregon, with locations in Medford and Ashland. Equipped with state-of-the-art technology and compassionate staff, Imaginears offers comprehensive services including hearing tests, hearing aid evaluations, custom hearing aid fittings, hearing aid cleanings, rehabilitative counseling, preventive care advice, and service and repair for most hearing aid models.
Contact:
Elizabeth D. Tangel, Au.D.
Imaginears
541-855-3825
http://www.imaginears.com