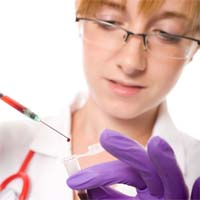 We are encouraged by the high disease control rate in patients treated with this combination...
Raleigh, NC (PRWEB) October 04, 2015
Doctors say 94% of mesothelioma patients who have received the new immunotherapy drug CRS-207 along with chemotherapy as part of an ongoing clinical trial have responded to the treatment. Surviving Mesothelioma has the full story. Click here to read it now.
In a poster presentation to the 40th European Society of Medical Oncology in Vienna, lead researcher Raffit Hassan, MD, called the new mesothelioma data "impressive".
"We are encouraged by the high disease control rate in patients treated with this combination and will continue to evaluate and track the durability of the responses, which are ongoing," stated Dr. Hassan.
The National Cancer Institute-sponsored trial includes 34 evaluable mesothelioma patients and will continue into 2016, according to Aduro Biotech, the manufacturer of CRS-207.
"Immunotherapy agents like CRS-207 represent one of the most hopeful advances in mesothelioma treatment. We can only hope that the results will continue to be good for the remainder of this important trial," says Alex Strauss, Managing Editor of Surviving Mesothelioma.
To learn how CRS-207 has been engineered to trigger immune system response to cancers like mesothelioma, see Promising Early Results from Mesothelioma Vaccine Trial, now available on the Surviving Mesothelioma website.
"Aduro Biotech Announces Phase 1b Mesothelioma Trial Featured in Spotlight Poster at ESMO/ECC", September 26, 2015, Aduro Biotech website. http://investors.aduro.com/phoenix.zhtml?c=242043&p=irol-newsArticle&ID=2090581
For nearly ten years, Surviving Mesothelioma has brought readers the most important and ground-breaking news on the causes, diagnosis and treatment of mesothelioma. All Surviving Mesothelioma news is gathered and reported directly from the peer-reviewed medical literature. Written for patients and their loved ones, Surviving Mesothelioma news helps families make more informed decisions.