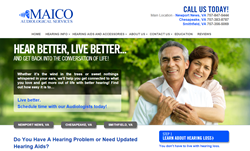 Newport News, VA (PRWEB) October 05, 2015
The decision to upgrade to a new pair of hearing aids is not always straightforward. On the one hand, some hearing aid models can last 3-7 years and longer and only require some periodic cleaning or repair. And in fact, if the hearing aids are functioning normally, there may be no need to upgrade at all.
On the other hand, there are several situations that do call for an upgrade, and getting a new pair of hearing aids may be the best choice. To help people decide if and when to upgrade, Maico Audiological Services has released an article titled 4 Reasons to Upgrade Your Hearing Aids.
Maico Audiological Services has identified four situations in which people may want to consider a hearing aid upgrade. The four situations are:
1. The hearing aids are no longer functioning as well as they used to. The lifespan of any particular hearing aid model will vary, but if the hearing aids are no longer functioning, it may indicate that the electronics are worn-out or damaged beyond repair. If cleaning or repair doesn't enhance the performance, an upgrade will be necessary.
2. The individual's hearing needs are no longer being met. Different hearing aids are designed for different situations and needs, so a new pair may be needed to fulfill certain functions. As an example, some hearing aid models are better equipped to handle phone calls than others.
3. An individual's hearing has changed. If hearing changes, the old amplification settings will no longer be sufficient. This requires new programming and often a new pair of hearing aids to match the new hearing needs.
4. An individual wants to take advantage of new technology and functionality. Hearing aid technology is advancing rapidly, and hearing aids are increasingly being designed for compatibility with the latest mobile technology. Some hearing aid models can be controlled with the Apple iPhone and Apple Watch, for example.
For those that would like to speak with a hearing professional about a possible upgrade, Maico Audiological Services recommends visiting http://www.maicoaudio.com or calling the number below for more information.
About Maico Audiological Services
Maico Audiological Services is a full-service audiology practice located in Virginia, with locations in Newport News, Chesapeake, and Smithfield. Equipped with state-of-the-art technology and compassionate staff, Maico Audiological Services offers comprehensive services including hearing tests, hearing aid evaluations, custom hearing aid fittings, hearing aid cleanings, rehabilitative counseling, preventive care advice, and service and repair for most hearing aid models.
Contact:
Mavis W. Garrett, Au.D., CCC-A
Maico Audiological Services
757-847-5444
http://www.maicoaudio.com