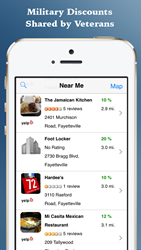 Discount Soldier makes it really easy for military service members to find military discounts and save money for Veterans Day.
San Francisco, CA (PRWEB) October 05, 2015
Over 100,000 businesses are expected to be offering military discounts this Veterans Day. Businesses will be offering these military discounts as a way to say thank you to the brave men and women who serve. Currently serving service members, Veterans and their families can make sure they don't miss out on any of the Veterans Day military discounts by downloading the Discount Soldier app from http://www.discountsoldier.com.
Discount Soldier allows Veterans, currently serving service members and their families to easily find Veterans Day deals and other military discounts directly on their smartphones.
"We make it really easy for service men and women to find military discounts right on their smartphones, tablets or other mobile devices, said Discount Soldier Co-Founder Matt Rathbun. "This is especially so during Veterans Day where we quickly sort the best offers that are near your current location, which will save you time and money."
This year Veterans Day discounts are expected to offer free or deeply discounted meals, admission to theme parks, services such as dental cleanings, haircuts, wills and much more.
Discount Soldier is supported by an online military community that shares military discounts with other Veterans. This community adds and shares local military discounts with the goal of supporting businesses that offer a military discount.
About Discount Soldier
Discount Soldier gives Veterans, active duty service members, Reservists, National Guard and their families an easy way to find community verified military discounts. For more information please visit http://www.discountsoldier.com.