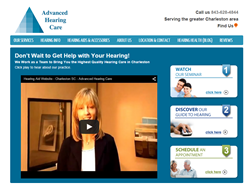 Mount Pleasant, SC (PRWEB) October 05, 2015
It remains unexplained as to why there is a certain stigma attached to wearing hearing aids but not to wearing prescription glasses. In both cases, technology is being used to enhance the senses. With glasses, vision is enhanced. With hearing aids, hearing is enhanced.
Yet hearing aid users alone have had to deal with negative perceptions, while those that wear glasses are perceived as more "sophisticated" or "intelligent." Maybe that should change.
In a recently published article titled 6 Encouraging Things Wearing Hearing Aids Says About You, Advanced Hearing Care suggests that people should start thinking differently about hearing aids and those who wear them.
According to Advanced Hearing Care, wearing hearing aids suggests that the person loves living an active life, because most social situations and activities require healthy hearing. Wearing hearing aids also suggests that the person is a proactive problem solver, and is tech-savvy, health-conscious, and self-confident.
Wearing hearing aids also shows that the person values relationships, because communication is the foundation for any healthy relationship. Hearing loss creates a barrier to communication between people, which can result in misunderstandings and undue stress.
Wearing hearing aids has been shown to improve relationships, enhance general health, and has even been linked to higher household income compared to those with untreated hearing loss. Considering all of the benefits, it makes more sense to admire someone's decision to wear hearing aids rather than needlessly suffer with a treatable condition.
About Advanced Hearing Care
Advanced Hearing Care is a full-service audiology practice located in Mount Pleasant South Carolina. The practice offers comprehensive services including hearing tests, hearing aid evaluations, custom hearing aid fittings, hearing aid cleanings, rehabilitative counseling, preventive care advice, and service and repair for most hearing aid models.
Contact:
Dr. Mary Anne Larkin, Au.D.
Advanced Hearing Care
843-628-4844
http://www.advhearing.com