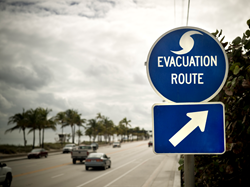 LINCOLN, R.I. (PRWEB) October 02, 2015
With Hurricane Joaquin taking an uncertain path this weekend, it's especially important to prepare your home and family. That's why Amica Insurance is sharing safety tips to help gear up for potentially severe weather.
Joaquin was upgraded to a Category 4 storm earlier this week, with wind speeds of approximately 130 mph. Amica is sharing the following tips from FEMA to prepare for Joaquin should it make landfall:

Put together an emergency kit with enough food, water and supplies to last 72 hours. Also, develop a family communication plan.
Learn about evacuation routes, and how to find higher ground. Figure out where to go and how to get there if you have to evacuate.
Cover all of your home's windows with 5/8-inch plywood. Taping windows will not stop them from breaking.
Trim back trees and shrubs to make them more wind-resistant, and clear gutters and downspouts of all debris.
Reinforce garage doors. If wind blows through the garage, it can cause serious structural damage to other parts of the home.
Make sure outdoor furniture, decorations, garbage cans and other belongings that are not tied down are brought inside.
Purchase a generator for emergencies.
If you live in a tall building, find shelter on the 10th floor or lower before the storm strikes.
About Amica Insurance
Amica Mutual Insurance Co., the nation's oldest mutual insurer of automobiles, was founded in 1907. The company, based in Lincoln, Rhode Island, is a national writer of auto, home, marine and umbrella insurance. Life coverage is available through Amica Life Insurance Company, a wholly owned subsidiary. Amica employs more than 3,400 people in 44 offices across the country. For more information, visit Amica.com.
Media inquiries can be sent to MediaCenter(at)amica.com.
Twitter: Amica
Facebook: Amica Mutual Insurance Co.