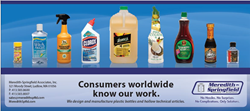 Meredith-Springfield stepped up and went beyond the call of duty in making a tamper-proof bottle for us
Ludlow, MA (PRWEB) October 02, 2015
Meredith-Springfield, New England's premier blow-molded products manufacturer, has released a Case Study outlining its innovative bottling solution for BIB producer Lemon-X.
Lemon-X was looking to develop a Cocktail Mix bottle to better fit into a bartender's speed rack. The development of the new bottle would come with some design and manufacturing challenges, requiring molds for a new body, neck, and cap.
Meredith-Springfield develop a round bottle that could be filled at different temperatures while also finding a solution for a new cap that would allow bartenders to pour better, faster and smoother drinks. The cap Meredith-Springfield formed contained two holes and came in two sizes, depending on the thickness of the liquid being poured.
"Meredith-Springfield stepped up and went beyond the call of duty in making a tamper-proof bottle for us," said Tom Corcoran, sales manager of Lemon-X. "They know our product line completely and guaranteed they would be able to address the issue we originally had with filling the bottles hot or cold."
Complete details of the Case Study are available through http://www.meredithspringfield.com.
Lemon-X is a national leader in the beverage industry and is recognized as the nation's largest BIB (Bag-In-Box) manufacturer. The company's evolving product line includes a diverse variety of juices, teas and lemonades in numerous concentrations and pack sizes across many major segments.
Meredith-Springfield is New England's premier blow-molded products manufacturer. We provide world-class design, engineering, development and production services for blow-molded plastic bottles, containers, and highly-technical hollow articles
Since 1983, Meredith-Springfield has been a leader in identifying trends and market niches in the plastics industry. Based in Ludlow, MA, Meredith-Springfield has established its reputation by serving clients that range from Fortune 100 corporations to one-person enterprises that include local, domestic and global entrepreneurial start-ups.
Unlike many in the industry that work with stock molds, Meredith-Springfield works only with privately-owned custom molds, ensuring the ability to create products unique to each client's company and brand.
From long-run and short-run products to test-market quantities of custom blow-molded prototypes, Meredith-Springfield provides quality and customized solutions to your blow molding needs.
For more information on Meredith-Springfield, please call (413) 583-8600.