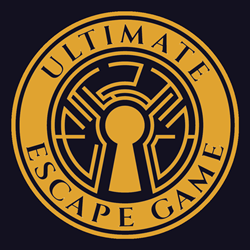 Enigma is designed to be a truly immersive escape room experience.
Atlanta, GA (PRWEB) October 12, 2015
Ultimate Escape Game's brand-new escape room adventure, Enigma, will open to the public on Friday, October 16. The fifth addition to the company's eclectic collection of escape rooms transports players to WWII, where they must crack Nazi Germany's infamous Enigma Code. Players will join the United Kingdom's greatest minds to accomplish the impossible—stop and impending assassination attack, and save the world from the Axis powers.
"Enigma is designed to be a truly immersive escape room experience—thanks to the tremendous genius of our new staging talents, Paul Gant and Phil Carroll, who have worked on film and theatre sets across the country. Once the door shuts and the game begins, we want guests to be transported into a war-torn, 1940s Britain," said Caitlin Downing, Director of Business Development.
Paul Gant of Paul T. Gant Art & Design and Phil Carroll of Flying Colors Tennessee have each worked in the film and theatre industry for over 30 years on projects such as "42," the Jackie Robinson Story; "Stoker," starring Nicole Kidman; and "Ernest," the comedic film series. The set designers' contributions have heightened gaming experience by adding a level of unexpected polish that plays to participant's senses. Guests can anticipate an elevated and more sophisticated adaptation of the Ultimate Escape Game's already celebrated escape rooms.
Ultimate Escape Game is now the largest escape room in Atlanta and is one of the city's most sought after attractions. After being open only 33 weeks, the company has already seen approximately 17,000 visitors, boasts five out of five stars on Tripadvisor.com and is ranked 17 out of 241 on the website's list of "Things To Do in Atlanta." In addition to Enigma, Ultimate Escape Game rooms include The Vault, Hackers, Atlanta and Amnesia.
Ultimate Escape Game is the perfect attraction for a unique date night, a night out with friends or a fun family outing. It offers an out-of-the-box. off-site activity to build more effective teams through a challenging and engaging team building experience. Companies can also take advantage of the manager's room where executive teams can observe results to provide actionable insights to team members. A few companies that have worked with Ultimate Escape Game for team building activities include Amazon, Coca-Cola, Home Depot, Delta, Chik-fil-a, Marriott and 11Alive News.
For more information about Ultimate Escape Game and how the company is "upping the ante" on customer experience and the escape game trend, visit ultimateescapegame.com.
Enigma is now available for pre-booking.
About Ultimate Escape Game
Ultimate Escape Game is live escape the room adventure, featuring four distinct rooms with new puzzles and challenges to solve. Located off of I-75 North at I-285, just ten minutes from downtown Atlanta, Ultimate Escape Game is a family-friendly experience that keeps players coming back for more. All of the Ultimate Escape Game scenarios are constructed by specialized puzzle designers in Europe and cater to all levels of play.
Contact:
Caitlin Downing
Publicist, Ultimate Escape Game
401-374-8240
caitlin(at)ultimateescapegame(dot)com
http://www.ultimateescapegame.com