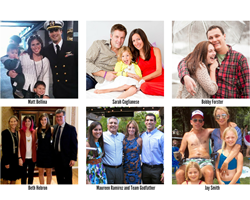 This year's award class represents the very heart of the ALS community and the foundation of who we are at the ALS Therapy Development Institute.
Cambridge, MA (PRWEB) October 05, 2015
The ALS Therapy Development Institute announced today the recipients of its 2015 Leadership Awards. The awards will be presented November 13, 2015 at the Sheraton Boston Hotel at the end of the Institute's annual Leadership Summit, a scientific meeting that includes a series of presentations and panel discussions on ALS research. These awards recognize individuals working on behalf of the ALS community to advance awareness of ALS and research to develop treatments and a cure for the disease. Nominations for the awards are made by the ALS community and then reviewed by an internal committee at the Institute made up of scientists, fundraisers and other staff. Award recipients for 2015 are as follows:

US Navy Lt. Commander (Ret.) Matt Bellina (Holland, PA) – Stephen Heywood Patients Today Award
Matt Bellina was diagnosed with ALS in April of 2014, though he had shown symptoms of the disease as early as 2006. He graduated from Virginia Tech in May 2005 and received his commission into the US Navy. Following his symptom onset, Matt was grounded as a Naval Aviator and continued to serve the Navy in administrative duties. He was medically retired from the Navy in 2014 with the rank of Lieutenant Commander. Matt, his wife Caitlin, and their two young boys transferred back to the East Coast in order to be close to family and friends.
He is an active participant on the ALS Forum, an online message board created by the ALS Therapy Development Institute to connect people living with ALS (PALS) and the ALS research community to discuss the latest in research and off-label approaches explored by PALS. He enrolled in the Institute's Precision Medicine Program in 2014. In addition, he and his family are actively involved in funding ALS research through the ALS Champion Fund at UMass Medical and Matt's Mission, a program created by Newtown Athletic Club in New Jersey which has raised nearly $180,000 for research programs at the ALS Therapy Development Institute through the Augie's Quest Clubs for the Quest campaign.
Sarah Coglianese (San Francisco, CA) – Stephen Milne Adventurous Spirit Award
Sarah Coglianese was diagnosed with ALS in June 2012 at the age of 33. Prior to that, she was an avid runner, who completed the Portland Marathon. Sarah worked in book publishing for 11 years in the San Francisco Bay Area and in New York. She is now a writer (http://www.speed4sarah.com), living in San Francisco with her husband Rob and their 5-year-old daughter Scarlett. Sarah's work has been published in The New York Times, Scary Mommy, and Redbook Magazine.
Most recently, she developed the "What Would You Give?" campaign to raise awareness and funding for ALS research. The online fundraising campaign exceeded its initial goal several times over, raising more than $150,000. The campaign challenged individuals to give up something which is lost in ALS for a day, such as their hands, legs or voice. Dozens of people joined Sarah in the campaign and used it to raise awareness in their communities and workplaces as well as raise funds in support of ALS research.
Bobby Forster (Newport, RI) – Mary Lou Krauseneck Courage & Love Award
Bobby Forster was diagnosed with ALS on December 23, 2014, though he started showing symptoms in May of that year. He graduated from Salve Regina University in May 2011 with a Bachelor's Degree in social work. Originally hailing from Beverly, MA, Bobby is an avid cyclist and surfer and joined Coaster Pedicab as sales director in January 2014. Since his diagnosis, he has spent significant time applying 3-D printing techniques to make various robotic products for him and other ALS patients.
Bobby married the love of his life, Casey, on June 20, 2015, and the following week, Bobby drove a single speed bicycle in the pouring rain for the first 25 miles and then finished out the last 9 in the back of the pedicab he designed for this year's Tri-State Trek. The Tri-State Trek is a 270-mile charity bike ride benefiting research at ALS Therapy Development Institute. He enrolled in the Precision Medicine Program and was featured in a WCVB news segment on the groundbreaking research effort. He also took time out of his honeymoon to bring the Ice Bucket Challenge to the cities he visited on his European cruise by posting photos and videos on Facebook and Viber.
Beth Hebron (Maplewood, NJ) – Fran Delaney Challenge & Respect Award
Beth was diagnosed with ALS on October 1, 2013. Beth grew up as a competitive gymnast and avid snowboarder. She graduated from George Washington University in 2010 with a BA in English and a minor in political science. Following graduation she continued to live in Washington, DC, working as a paralegal. Following her diagnosis, Beth made the decision to leave her job and move under her parents care in New Jersey.
On March 15, 2015 Beth enrolled in the Precision Medicine Program. That April she and her family launched http://www.BetonBeth.com, raising over $80,000 for the Precision Medicine Program. Beth and her father are well known advocates for ALS research as well as clinical trial reform.
Beth adds, "I am incredibly honored to receive this award. Particularly because it acknowledges the recipients work creating new initiatives to battle the disease by questioning the science and research surrounding ALS. To use patient advocacy in a way that motivates scientists and researchers to use the ingenuity and creativity needed to cure this disease. I have found my mission in life and I am so very lucky to have the wonderful support of ALS.net."
Maureen Ramirez and Team Godfather Charitable Foundation (Encinitas, CA) – Stephen Milne Adventurous Spirit Award
Maureen lost her husband, Mike Ramirez, to ALS in 2012, and she continues to lead his legacy with almost $1 million raised for ALS research through the Team Godfather Charitable Foundation. Team Godfather's innovative fundraising events have included "Groovin with the Godfather," a musical event at the Belly Up Tavern in Solana Beach that raises almost $200,000 annually, and the "Bike4Mike" fundraiser which recruits experienced and recreational cyclists from all over San Diego County. In addition to her fundraising activities, Maureen speaks with and provides advice and support to local ALS patients and families.
Last year, the Team Godfather Charitable Foundation caught ALS Therapy Development Institute staff off guard when they made a donation of $100,000 at the conclusion of the annual Leadership Summit. Maureen will not be able accept the award in person because the ceremony falls on the same day that her son, Michael Ramirez, Jr., is getting married.
"I'm honored to accept this award on behalf of my late husband Mike Ramirez, 'The Godfather,' and the entire Team Godfather Foundation. This entire group led by Daryl and Greg Sacks have worked effortlessly over the past five years to FUNdraise for ALS research. We've almost met our goal of raising $1 million and we've had a ton of fun doing it. I'm so thankful for our friends and family who have supported us and continue to make Mike's memory a Legacy in the San Diego community," says Maureen.
Jay Smith (Austin, TX) – Stephen Heywood Patients Today Award
Jay Smith is the Founder of Livid Instruments, a successful Austin-based music technology company. He lives in Austin with his wife, Missy, and daughters, Loghan and Peyton. Jay was diagnosed with ALS in May 2014 and shortly after created the Every 90 Minutes Foundation to support the most promising research to find a cure for ALS. The foundation was named such to recognize the fact that every 90 minutes someone in the United States is diagnosed with ALS.
The foundation and its advisory board members have raised hundreds of thousands of dollars for multiple different research programs, including those at ALS Therapy Development Institute. Fellow 2015 Leadership Award recipients, Sarah Coglianese, Matt Bellina, and Beth Hebron's father, Bob Hebron, are advisory board members of the Every 90 Minutes Foundation.
"This year's award class represents the very heart of the ALS community and the foundation of who we are at the ALS Therapy Development Institute. We are only able to do the work we do and remain 100% focused on ALS research because of leaders in the community like these six people. I have gotten to know each of them on a very personal level, and they provide more than just financial support to the Institute. They take the time to understand the science, our strategy, and they are deeply involved in our programs. I am so proud of what they have accomplished, and I hope to emulate their leadership in the ALS community here at the Institute daily," said Steve Perrin, Ph.D., CEO & CSO of the ALS Therapy Development Institute.
The ceremony is open to the public. To learn more about the Leadership Summit, the awards, and to register, visit http://www.als.net/summit.
About the ALS Therapy Development Institute
The ALS Therapy Development Institute and its scientists actively discover and develop treatments for ALS. The Institute is the world's first and largest nonprofit biotech focused 100 percent on ALS research. Led by ALS patients and their families, the charity understands the urgent need to slow and stop this horrible disease. Based in Cambridge, MA, the Institute has served as one of the leaders in sharing data and information with academic and ALS research organizations, patients and their families. For more information, visit http://www.als.net.