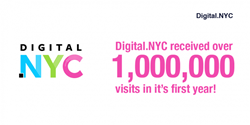 From course listings to co-working spaces, Digital.NYC is the best place on the web to find new resources and stay connected to the tech ecosystem in New York City.
New York, New York (PRWEB) October 02, 2015
The de Blasio administration and New York City Economic Development Corporation today marked the one-year anniversary of Digital.NYC, a first-of-its-kind online platform and centralized hub that has united the City's tech ecosystem.
On the heels of Mayor de Blasio's announcement that the City will provide computer science education to all K-12 students – ensuring New Yorkers are better prepared for jobs in the thriving tech sector – Digital.NYC celebrates one year of providing New Yorkers with helpful resources and information on over 6,500 New York based startups, nearly 200 early-stage investors, more than 8,900 jobs postings, and over 400 upcoming New York tech events. To date, Digital.NYC has received over one million visits and more than 789,000 unique visitors.
"As Digital.NYC – our one-stop shop for all things tech – celebrates its first birthday, we're thrilled that so many New Yorkers are taking advantage of this immensely useful tool," said Mayor de Blasio. "From course listings to co-working spaces, Digital.NYC is the best place on the web to find new resources and stay connected to the tech ecosystem in New York City."
Nearly 300,000 New Yorkers currently work in the City's technology sector supporting an additional 250,000 jobs. The de Blasio administration is committed to ensuring New Yorkers have access to jobs in the booming sector, and recently announced Computer Science for All to provide computer science education to all K-12 students. Digital.NYC has made New York City's tech scene more accessible to all New Yorkers across the five boroughs by providing information and resources that can turn ideas into businesses, delivering valuable tools for startups and entrepreneurs, and connecting New Yorkers to opportunities and jobs in the City's tech ecosystem.
Marking its one-year anniversary, Digital.NYC released an infographic with insights on how New Yorkers have embraced the online hub. The most popular search term was "intern," and "entry level" was also among the top five search terms – illustrating how Digital.NYC often serves as a starting point for those interested in getting involved in the tech ecosystem. Among the most visited categories of content have included finding jobs, startups, events, and news. The top five most popular jobs searches were for positions in engineering, marketing and public relations, business and strategy, operations, and project and product management. The top five most popular education course searches were for programming, web development, design, computer basics, and entrepreneurship. To date, more than 789,000 people have visited the online hub, totaling more than one million visits, to explore content including the latest job listings, startup profiles, education courses, news, and more. As a world technology and innovation capital, New York City's online hub has also attracted attention from abroad, with more than 11,000 visitors from American and international cities.
"One year and over one million hits later, Digital.NYC is connecting New Yorkers to great jobs, resources to start and grow their companies, and events to experience the energy of New York City's thriving tech ecosystem," said Jessica Singleton, Chief Digital Officer. "An innovative public-private partnership, Digital.NYC set a new standard for access and information by bringing every aspect of the tech sector into one home on the web. Insider or not, now every New Yorker can get the inside scoop on tech."
"After one year, Digital.NYC has become the resource for New York City businesses, job seekers and entrepreneurs in every industry touched by the technology sector," said NYCEDC President Maria Torres-Springer. "Digital.NYC has proven itself as a one-stop-shop for resources in the City's tech and start-up scene that's accessible to anyone at the click of a button, providing a springboard for new ideas and innovations, and cementing New York City's role as a technology capital of the world."
"Digital.NYC has been pivotal in providing one place for startups to go for key information around the ever-expanding digital startup world in NYC," said Bruce Weed, Program Director, NYC Startups and Developers, IBM. "IBM is proud to provide Bluemix as the underlying technology for the site, as well up to $120,000 per year in cloud credits to startups using the platform."
"Gust is proud to have played an integral role in New York City's pioneering launch of Digital.NYC and help set the gold standard for a comprehensive, unified platform built for an entire digital ecosystem," said David S. Rose, CEO, Gust. "Through Digital.NYC, Mayor Bill de Blasio and his administration, with the support of IBM and the city's technology industry, are demonstrating precisely why New York City is world's fastest growing digital hub. This platform, the first of its kind in the world, empowers budding technologist across all five boroughs to explore, learn, and participate in their city's digital economy."
"Digital.NYC is a great example of how NYC is leading the way, with its one-stop shop for citywide tech sector news and jobs. By making it available to all New Yorkers, we democratize access to key resources and information across five boroughs. I enjoy seeing how much the job postings, events, and startup listings have expanded in just one year. NYC is the envy of other cities, who will soon follow our lead, I am sure," said Minerva Tantoco, Chief Technology Officer.
"There's never been a more exciting time to be a part NYC's tech community. Finding the right job or starting your own company demands new skills, and we're thrilled to have partnered with Digital.NYC to launch a platform that helps New Yorkers discover transformative educational opportunities," said Nihal Parthasarathi, Co-Founder & CEO at CourseHorse. "In the past year, Digital.NYC has helped thousands find the classes they need to stay ahead and make our tech community the most innovative in the world."
"StartUp Box is proud to be a Bronx-based business that contributed to the successful production of New York City's comprehensive guide to the startup community: Digital.NYC!" said Majora Carter, CEO, StartUp Box. "Digital.NYC helps all New Yorkers interested in finding coding courses, local networking events, the latest news, investment opportunities, and jobs in the growing NYC tech ecosystem. Huge congrats on breaking 1M visits!"
"Digital.NYC has helped to bring New York City's tech community together and make it more accessible than ever to anyone who wants to be a part of our city' s thriving startup economy. Our city's strength is in its diversity and inclusivity," said Reshma Saujani, Founder and CEO, Girls Who Code. "Digital.NYC serves as a great learning tool and resource for like-minded individuals across all five boroughs to discuss their startup ideas, share news and opportunities and much more."
"Digital.NYC is one of the most comprehensive portals to find out everything tech in NYC, including job opportunities at the fastest growing startups, new funding announcements for local startups, lists of co-working spaces, and more," Aaron Holiday, Managing Entrepreneurial Officer, Cornell Tech. "New York City is a mature startup hub, and Digital.NYC has the most up-to-date information that showcases the strength of our tech community."
"As an early partner of Digital.NYC, it was clear from the beginning that an online centralized hub for New York's burgeoning startup economy would be a transformative force in our city," said Jukay Hsu, Founder at Coalition for Queens (C4Q). "In only a year, Digital.NYC has helped to bring the five boroughs closer together, shed light on the innovations emanating from every borough, and expand access to all the opportunities, jobs, courses, resources and more that our city has to offer to aspiring entrepreneurs."
"Digital.NYC has proven to be a progressive, forward-thinking movement that genuinely cares about their mission and supporters," said John Henry, Director of Strategy, Cofound Harlem. "From the start, they made it clear this was going to be a true city wide initiative - not just downtown. We're really excited to have the support of Digital.NYC in the Uptown Tech space and are proud champions of what they're doing."
Digital.NYC is the product of more than a dozen New York City-based tech and civic organizations in partnership with the City, led by NYCEDC. Built by New York-based Gust on Bluemix, IBM's new cloud development technology, the online hub was also one of the first web platforms to take advantage of the new dot-NYC top-level Internet domain, exclusively reserved for New York City residents and businesses.
For more information, visit http://www.digital.nyc/infographic