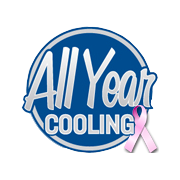 Fort Lauderdale, Florida (PRWEB) October 06, 2015
All Year Cooling, a local South Florida air conditioner repair and installation company, has pledged to donate a portion of their earnings from air conditioning installations made throughout the entire month of October to Cancer.org. The donations made will be in honor of Breast Cancer Awareness Month and will directly help to treat patients, screen and educate the public about cancer, further prevention, research treatments and a cure, train doctors and other medical professionals, and further fundraise.
All Year Cooling has completely dedicated the month of October to Breast Cancer Awareness. Not only are they donating a portion of their profits to breast cancer research, but they have also transformed their website and social media pages with a pink breast cancer awareness theme, and have even made pink shirts for their team members to wear throughout the month of October.
"Breast Cancer Awareness Month is something All Year Cooling has always felt strongly about. This is our second year donating a portion of our profits to benefit this cause and we could not be happier" said Tommy Smith, President of All Year Cooling. "Breast cancer affects so many families in our community and many people we hold close to our hearts and the All Year Cooling team is humbled to contribute to such a worthy cause," said Smith.
All Year Cooling is very involved with the South Florida community and its customer base. Recently the AC repair and maintenance company has given away tickets to concerts, a Las Olas food tour, a brunch cruise and more. All Year Cooling also offers discounts to military service members and veterans, who can receive 10 percent off AC repairs or $100.00 off AC installations.
All Year Cooling is a family-owned air conditioning company that has been in business for the past 42 years. Specializing in air conditioning installation, maintenance, sales, and repairs, All Year Cooling knows what it takes to keep South Florida out of the heat. All Year Cooling serves customers from Vero Beach to the Keys. To learn more about All Year Cooling, visit their website here.