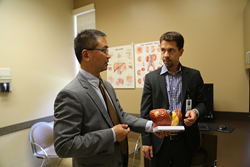 Our staff is critical to our success. It takes a team to care for each of our patients and we are committed to their welfare.
LOMA LINDA, CA. (PRWEB) October 05, 2015
Patients receiving a liver transplant at Loma Linda University Health have the best survival rate for all programs in Southern California and the second-best in all of California, according to recent numbers released by the Scientific Registry of Transplant Recipients (SRTR).
SRTR is the organization tasked by the U.S. Department of Health and Human Services with compiling these and other statistics related to transplantation. The recent numbers placed the Transplant Institute at 94.44 percent survival after one year liver transplantation, according to SRTR.
Michael E. de Vera, MD, transplant surgeon and director of Loma Linda University Transplantation Institute, calls the latest statistics very encouraging. "It tells us that our efforts over the last five years are paying off."
deVera stated that while the statistics are impressive, he hopes to be able to serve more patients from the greater Inland Empire at the Transplantation Institute.
The first liver transplant at Loma Linda University Health was performed in 1993, and since then more than 500 liver transplants have been performed at the medical center.
There are some key differences between the Transplantation Institute at Loma Linda and other similar centers around the country, and de Vera believes these have contributed to the organization's success.
"All physicians and 50-plus staff members of our institute are physically located in one place," de Vera points out. "This allows us to work in unison toward our goals and provide more coordinated care, in addition to being more convenient for patients."
The Transplantation Institute also shares the Loma Linda University Health concept of "whole-person care," providing extensive counseling on diet and healthy lifestyle, as well as organizing support groups for patients and their caregivers in an environment that welcomes each person's spirituality and individuality.
The transplant surgery team, in addition to de Vera, consists of Pedro Baron, MD; Philip Wai, MD; and Arputharaj Kore, MD.
Five hepatologists provide pre-transplant and post-transplant care. This group includes Lydia Aye, MD; Jason Cheng, MD; Khaled Selim, MD; Mina Rakoski, MD (joining in October 2015); and is led by Michael Volk, MD, MSc, who is also chief of gastroenterology.
In addition to the surgeons and hepatologists, the Transplantation Institute liver team includes clinical directors, nurse coordinators, social workers, transplant assistants, financial coordinators, dietitians, pharmacists and others.
"Our staff is critical to our success," Volk adds. "It takes a team to care for each of our patients and we are committed to their welfare."
Another important feature of the liver transplant program is the focus on community outreach. "We have a number of clinics that help us serve a wider area," Volk explains. "Our surgeons and hepatologists travel to these clinics where we meet our patients and interact with their communities."
Outreach clinics in Southern California are centered in Rancho Mirage, Glendale, Murrieta, and a fourth clinic is located in Las Vegas, Nevada.
The Transplantation Institute oversees adult and pediatric heart transplants, adult liver transplants, adult and pediatric kidney transplants, adult pancreatic transplants and pediatric bone marrow transplants. Combination transplants are performed as needed, including kidney/pancreas, liver/kidney, liver/pancreas, and heart/kidney.
Appointments can be scheduled by calling 1-844-LIVER-LL.
PHOTO CAPTION: Dr. Michael de Vera, left, director, LLU Transplantation Institute and transplant surgeon; and Dr. Michael Volk, medical director for the institute and a hepatologist, lead out in the comprehensive care of their transplant patients, from surgery to pre- and post-surgery care, as well as support for patients and their families.
###