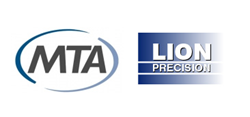 Oakdale, Minn. (PRWEB) October 07, 2015
MTA is well regarded for its unique ability to provide highly differentiated motion control technology, precision machining, and electro-mechanical assembly all under one roof to help customers simplify their supply chains. The acquisition of Lion Precision enhances its position sensing capabilities and markets served. MTA will also provide Lion Precision manufacturing capabilities and resources to help Lion Precision expand its business globally. "Our vision continues to be to provide optimized sensing solutions by partnering with our customers to ensure mutual success. We look forward to increased capabilities and capacity as MTA brings additional resources and expertise to all aspects of Lion Precision's business, " said Don Martin, who is continuing as president of the Lion Precision division of MTA.
Founded in 1987, Motion Tech Automation (MTA) began as a manufacturers' representative firm concentrating on the industrial motion control industry. Since then, MTA has expanded to include a wide range of value-added services and additional products while maintaining focus on the motion control industry. MTA is an ISO9001:2008-certified company, with clients from many industries, including medical, packaging, semi-conductor, machine tool, military, special machinery builders, factory automation equipment, printing and converting.