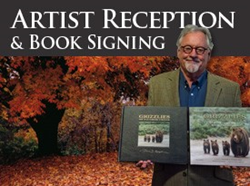 One of the 40 Most Influential Nature Photographers - Outdoor Photography
Galena, Illinois (PRWEB) October 02, 2015
Mangelsen ~ Images of Nature Gallery in Galena, Illinois announces a rare opportunity to meet legendary nature photographer Thomas D. Mangelsen Sat., Oct. 17, from 5-9 p.m. Mangelsen will unveil his new critically-acclaimed book "Grizzlies of Pilgrim Creek, An Intimate Portrait of 399 – The Most Famous Bear of Greater Yellowstone" that evening.
Mangelsen has been tracking and photographing these bruins of Greater Yellowstone for 10 years, amassing an incomparable portfolio that offers an intimate glimpse into the lives of this celebrated bear family. Told through more than 150 breathtaking images and the compelling research and writing of noted environmental journalist Todd Wilkinson, the book is a dramatic tale of life and death, near annihilation and survival and the relationship between people and grizzly bears. Mangelsen will share his limited edition images reflecting the intimate beauty of our natural world along with stories from his recent travels and will be available for signing throughout the evening. The artist reception will feature Mangelsen's collections from grizzly bears in Grand Teton National Park to polar bears in Manitoba, Canada and wild animals on the plains of Africa.
One of the most prolific nature photographers of all time, Mangelsen is as much an artist as he is a conservationist. He was named the 2011 Conservation Photographer of the Year by Nature's Best Photography, placing his work in the permanent collection at the Smithsonian's National Museum of Natural History in Washington, D.C. He was named one of the 40 Most Influential Nature Photographers by Outdoor Photography. His image Polar Dance was selected by the International League of Conservation Photographers as one of the 40 Most Important Nature Photographs of All Time. He was chosen as one of Dr. Jane Goodall's Heroes of the Animal Planet and profiled in the television series of the same name.
Additional accolades were being named one of the "100 Most Important People in Photography" by American Photo magazine and also honored with Nikon's "Legend behind the Lens" recognition. He received an Honorary Fellowship from The Royal Photographic Society and was named "Outstanding Nature Photographer of the Year" by the North American Nature Photographer Association. Mangelsen received the prestigious British Broadcasting Corporation's Wildlife Photographer of the Year Award and his photography has been published in National Geographic, Audubon, Time, Life and National Wildlife as well as featured on television programs from The Today Show and Good Morning America to CNN's World News and ABC's World News Tonight with Peter Jennings.
For details about this incredible opportunity, go to http://www.VisitGalena.org or call 815.776.9200.
# # #
VisitGalena.org serves as the tourism marketing and management organization for Galena, Illinois. This not-for-profit organization provides numerous travel resources to visitors via http://www.VisitGalena.org and a Welcome Center located at The Old Market House, 123 N. Commerce St., Galena IL 61036-2209.