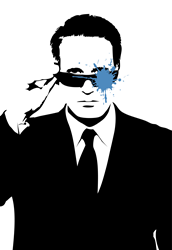 When the trouble is that you owe tax to the Canada Revenue Agency, you don't need the cost or hassle of hiring a lawyer to fix it. DioGuard.me does it faster.
Mississauga, ONTARIO (PRWEB) October 04, 2015
An intensive advertising campaign starts October 5, 2015 on Toronto radio stations and buses in Mississauga and Burlington. The website, which is the same as the name, DioGuard.me, is already live. The bus advertising and the website feature a black and white graphic of the Taxman with a blue paint splat dripping down his sunglasses.
DioGuard.me is the product of tax lawyer Philippe DioGuardi's long and drawn out dispute with the Law Society of Upper Canada over DioGuardi Tax Law's use of protective strategies to keep client retainer fees safe from seizure by Canada Revenue Agency. Philippe DioGuardi says he has almost reached a tentative settlement with the Law Society to end his discipline proceedings, but will be making a separate application to the Law Society's Professional Regulation Committee to review policy related to this problem.
However, the dispute with the Law Society made it clear to Mr. DioGuardi that when people owe tax to the Canada Revenue Agency, a lawyer is no longer the most effective choice for ending the problem.
"People who owe tax are vulnerable to the Canada Revenue Agency's aggressive collection tactics," explains Philippe DioGuardi. "They need fast and affordable ways to fix their tax trouble before the CRA comes after them with bank and wage garnishments or liens against their home and other property."
DioGuard.me unleashes the cumulative learning and innovations of Philippe's DioGuardi's more than 25 years of practice as an adversarial tax lawyer. "I have transferred my own tax know-how, my DioGuardi 'special sauce', to a hand-picked team who are not lawyers," Mr. DioGuardi says. "They know what I know about fighting the CRA. And because they're not lawyers, they can work more quickly to end people's tax debt trouble for less than a lawyer would charge. Frankly, when the trouble is that you owe tax, you don't need the hassle of hiring a lawyer to fix it."
The DioGuard.me model uses aggressive negotiation tactics to hold the Canada Revenue Agency at bay while terms are settled for the pay out of tax arrears over time. DioGuard.me also connects clients with resources to finance the tax debt. This can save people of many thousands of dollars in interest, which is more than enough to offset the cost of the borrowing. Where the finance option is not viable, DioGuard.me will develop a restructuring plan to help the taxpayer or business move on.
In addition to dealing with tax debt trouble, DioGuard.me will also assist people who need to file overdue tax returns, contest an erroneous assessment, or deal with a CRA audit.
DioGuard.me has embraced the convenience of the mobile device, offering instant appointment booking straight from cellular phones via a three-digit #(pound) fast dial number, #DIO (#346). The same instant appointment booking may be accessed online from a tablet or computer at http://www.dioguard.me. An initial meeting with DioGuard.me is free.
DioGuard.me Services Complementary to DioGuardi Tax Law
DioGuard.me will not operate in competition with DioGuardi Tax Law. Mr. DioGuardi and his father, Paul DioGuardi, QC, a veteran tax lawyer in his fiftieth year of tax practice will continue to provide legal services to the existing clients of DioGuardi Tax Law and, going forward, to clientele requiring protected disclosures for not filing returns or not reporting income, including offshore bank accounts(VDP); tax court appeals; tax litigation; and criminal tax defense.
The DioGuard.me team will operate independent of the law firm, from an office in Mississauga, just south of Pearson Airport, at the junction of four of the 400-series highways. Meetings are available in person or by telephone. A second office in Woodstock is planned for June 2016 for the greater convenience of taxpayers in southwestern Ontario.
DioGuardi Tax Law continues to operate from its three offices, in Mississauga, downtown Toronto, and Ottawa.