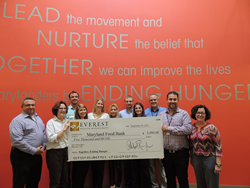 Collaborating with companies like Everest Wealth Management is essential in meeting our [Maryland Food Bank] goal to end hunger in Maryland. - Deborah Flateman, Maryland Food Bank President & CEO
(PRWEB) October 06, 2015
In honor of Hunger Action Month, Towson-based retirement planning firm, Everest Wealth Management recently donated $5,000 to the Maryland Food Bank in support of the movement to end hunger. The Everest team presented a check during a visit to Maryland Food Bank headquarters on Sept. 28, when they volunteered for three hours in the food bank's warehouse.
"Collaborating with companies like Everest Wealth Management is essential in meeting our goal to end hunger in Maryland," said Maryland Food Bank President & CEO Deborah Flateman. "We are grateful for this generous donation of $5,000, and we appreciate the Everest Wealth Management team members who donated their time to volunteer in our warehouse."
One in eight Marylanders, or nearly 758,000 individuals, report food insecurity—meaning they are unable to consistently access nutritious food and may not know where their next meal will come from. After taking a facility tour and learning more about the Maryland Food Bank's many programs, the Everest team volunteered for a three hour shift in the food bank's warehouse, where team members packed health and beauty kits on the conveyor system.
"We strongly encourage corporate social responsibility at Everest, and make charity and volunteerism a priority in our company culture," said Everest President Philip Rousseaux. "A foundational element of Maslow's hierarchy of needs, food is essential to human survival, and the very real issue of hunger must be addressed first and foremost. The Maryland Food Bank does tremendous work, and our team greatly enjoyed taking action against hunger."
Please direct all media inquiries to Josie Hankey at 410-420-2001 or by email at josie(dot)hankey(at)fallstongroup(dot)com. For more information about Maryland Food Bank volunteerism, visit http://www.mdfoodbank.org/volunteer/.
About Everest Wealth Management, Inc.
Everest Wealth Management specializes in protecting their clients' money and income in retirement. Everest offers a variety of insurance solutions and annuities covering a broad spectrum of asset classes and strategies which are used to create a portfolio to fit their clients' goals and risk tolerance. Everest's commitment to annuity knowledge and superior client service truly sets them apart from the rest. For more information, visit http://www.everestwm.com.
About the Maryland Food Bank
The Maryland Food Bank is a nonprofit hunger-relief organization, leading the movement to end hunger throughout Maryland. For more than 35 years, the Maryland Food Bank has partnered with communities across the state to distribute food to individuals and families in need. Through carefully-crafted programs, the food bank aims to meet the immediate needs of Marylanders while simultaneously working to find long term ways to reduce hunger statewide. Currently distributing more than 100,000 meals per day—nearly 37 million meals annually—the Maryland Food Bank will continue to expand its efforts until hunger ends. To learn more about the Maryland Food Bank, visit http://www.mdfoodbank.org.