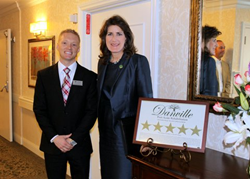 California needs more skilled nursing facilities like Danville Post-Acute Rehab to meet the needs of our state's aging population
Danville, CA (PRWEB) October 07, 2015
On September 21, 2015, Assemblywoman Catharine Baker met with Danville's skilled nursing facility administrator, Taylor Ellis, and the Director of Legislative Affairs for California Association of Health Facilities, Matt Robinson, and also Region 1 Chair for CAHF, Matthew Yarwood, to discuss challenges that skilled nursing facilities face regarding changes to reimbursement rates among payer sources in the Sacramento area.
During the early morning hours, Ms. Baker met with Mr. Ellis, Mr. Robinson, and Mr. Yarwood and learned more about the specific challenges skilled nursing facilities face with state policies, Medi-Cal, Medicare, and insurance coverage in general. Afterwards, Ms. Baker toured the facility and took the opportunity to meet with residents and take photos with them. She expressed that she was impressed with the patients and the facility and would like to volunteer her time to participate in various social activities in the future.
"Our staff and patients were tremendously excited to meet Assemblywoman Baker," said Taylor Ellis. "At Danville Post-Acute Rehab, we take a holistic approach to providing a five- star experience for each of our patients. We believe that Catharine Baker also takes the same approach as she works to promote and develop positive changes in Sacramento. Our patients were touched that she was interested in their well-being and would take the time to meet with them. We look forward to working with Assemblywoman Baker to help shape the healthcare industry in the best possible way to benefit our patients."
Ms. Baker expressed her appreciation for facilities like Danville Post-Acute Rehab. "During my visit to Danville Post-Acute Rehab, I learned about the biggest challenges impacting skilled nursing facilities, and some areas where we can help in the state legislature," said Baker. "California needs more skilled nursing facilities like Danville Post-Acute Rehab to meet the needs of our state's aging population. There's a silver tsunami of an aging population fast approaching, and we need to ensure we are prepared to provide quality care for each of these California residents."
For more information about Danville Rehab, or to schedule a building tour, please visit our website or call 925-837-4566. For more information about Assemblywoman Catharine B. Baker, please visit her website.
About Assemblywoman Catharine Baker
Assemblywoman Catharine Baker was elected to the 16th Assembly District on November 4, 2014, and was sworn into office on December 1st. Ms. Baker earned her B.A. degree from the University of Chicago, overcoming cancer her senior year to graduate Phi Beta Kappa and with honors. Catharine later went on to earn her J.D. degree from U.C. Berkeley School of Law. As an attorney, she helped small businesses and local charities get started and become successful.
About Danville Post-Acute Rehab
Danville Post-Acute Rehabilitation Center is a skilled nursing facility recognized as one of America's 2015 Best Nursing Homes by U.S. News & World Report. Danville currently holds a five-star rating. At Danville, caring is the main concern. We believe the most effective way to provide compassionate care is to maintain high medical integrity; build a team spirit among staff; and provide friendly, beautiful surroundings for patients and their visitors. The team of qualified professionals helps patients recover from surgery, injury, or serious illness. Danville understands the importance of creating a comfortable and nurturing atmosphere, whether patients are there for short-term treatment or long-term care.