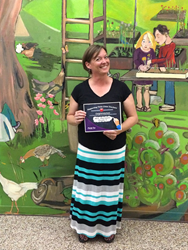 We are thrilled that Massage Envy Spa is honoring Educators in Minnesota
Minneapolis, Minnesota (PRWEB) October 12, 2015
Massage Envy Spa is giving Minnesota Teachers the stress relief they deserve by recognizing them for the hard work they do to guide and educate students of all ages. Teachers can be nominated through May 27th, 2015 on the Massage Envy Twin Cities Facebook Page. One winning teacher will be awarded 10 complimentary 1-hour massage sessions to share with teachers in their school.
"The Twin Cities Massage Envy Spa Franchisees are deeply committed to our communities, and children and families come first," said Gary Meyers, Massage Envy Spa Regional Developer. "By supporting teachers, and giving them the recognition and relaxation they deserve, it is our hope that the healing power of massage will create healthier classrooms and a less stressful learning environment."
One nominated teacher will be selected at the end of the year to win a Massage Envy Spa Membership for a full year of health and wellness.
"We are thrilled that Massage Envy Spa is honoring Educators in Minnesota. Instructors deserve to be honored for so many reasons, but most importantly they help prepare students to be skilled at their trade and become contributing members of society." -Maria Leonard, Dean of Education, Minnesota School of Business Plymouth Campus.
About Massage Envy
Massage Envy, based in Scottsdale, Arizona, is a national franchisor, and through its franchised locations, is the leading provider of therapeutic massage and skincare services in the United States. The national franchise is dedicated to providing professional and affordable therapeutic massage and skincare services to members and guests with busy lifestyles at convenient times and locations. Founded in 2002, Massage Envy has more than 1,000 franchise locations in 49 states and 1.5 million members. In addition, the average unit volume for a franchise location is $1.35 million. Through its national partnership with the Arthritis Foundation, Massage Envy has raised more than $3 million in four, one-day Healing Hands for Arthritis events. The company was recently ranked #1 Best Franchise with an initial investment of $500,001 and up by Forbes, #79 in Franchise Time's Top 200, #51 in Entrepreneur's 2014 Franchise 500 and #27 in its Fastest Growing Franchise rankings. Massage Envy is a member of the International Franchise Association (IFA) and was named a 2013 Military Friendly Franchise. For more information, visit http://www.MassageEnvy.com/locations.