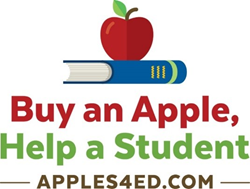 Raising funds for classroom projects nationwide every time a person shares a photo enjoying an apple or related product
Vienna, VA (PRWEB) October 05, 2015
This fall, supporting school causes is as easy as taking a bite out of an apple with "Buy an Apple, Help a Student," a fundraising program featuring the U.S. apple industry and favorite brands working together to provide financial support to student projects nationwide every time a person shares a photo of an apple or related product.
Now through Nov. 15, individuals can visit Apples4Ed.com to read quick profiles of 12 student causes – classroom projects in need of funding that range from new school gardens and improved libraries to updated technology, revitalized playgrounds and enhanced resources for teacher. Supporting these causes takes four steps:
1. Snack: Individuals can crab an apple, apple juice, applesauce and/or delicious products made by program partners (or "Apple Buddies") Marzetti, KIND Snacks, Roth Cheese, and Johnsonville Sausage.
2. Snap: Individuals then take a picture enjoying (selfies preferred, not required).
3. Tag: Participants can find a school cause at Apples4Ed.com, and tag their photo with the project's name and hashtag #Apples4Ed.
4. Share: Participants then can vote for their favorite school cause by uploading the photo to Apples4Ed.com or sharing on Instagram.
For every vote, U.S. Apple Association (USApple) – representing the U.S. apple industry – and program Apple Buddies will pledge financial contributions to nominated projects to help them reach their goals. Individuals can vote as often as they desire; each pic individuals upload enjoying apples and apple pairings using Apple Buddy products counts as a vote.
Through mid-November, as the program collects photos and tallies votes, USApple and program Apple Buddies will encourage participation with weekly drawings in which participants can win Apple® gift cards and have money donated directly to their selected project.
In addition, individuals who visit Apples4Ed.com will find helpful facts about apples' many health benefits, as well as a variety of original recipes created by Top Chef fan favorite Chef Dave Martin. The quick recipes pair apples with products and ingredients from Marzetti, KIND Snacks, Roth Cheese, and Johnsonville Sausage.
In December, USApple and partners will announce the cause with the most votes, which will receive the highest donation. Every classroom featured on the site will, however, receive funds.
"We love the time-honored connection between apples and education and wanted to bring it to life with a fun program that lets people turn their daily apple into direct support for important classroom projects nationwide," said Wendy Brannen, Director, Consumer Health and Public Relations, USApple. "With Buy an Apple, Help a Student, enjoying an apple or delicious pairing from our Apple Buddies can go a long way in supporting healthy bodies and minds."
About USApple
U.S. Apple Association is the national trade association representing all segments of the apple industry. Members include 40 state and regional associations representing the 7,500 apple growers throughout the country, as well as more than 400 individual firms involved in the apple business. More information on the organization is available at USApple.org.
# # #