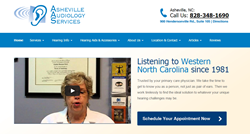 Asheville, NC (PRWEB) October 06, 2015
Hearing loss is difficult to recognize; it accumulates slowly and steadily over the years and goes undetected until it begins to adversely impact life. At that point, people are tempted to either deny the issue, or, alternatively, to try to find a quick and inexpensive fix—including purchasing hearing aids online, buying personal sound amplifiers, or visiting a national chain store.
Although there are several tempting alternatives, visiting the local hearing care provider remains the ideal way to diagnose and treat hearing loss, according to a recent article by Asheville Audiology Services titled Why Choose a Local Hearing Care Provider?
In the article, Asheville Audiology Services describes the reasons why local hearing care providers provide the best hearing and the best results. First, local practices apply a different business model and philosophy compared with the national chains. Whereas local practices rely on a customer-centric business model—in which the business benefits from quality patient care and the resulting patient-to-patient referrals it generates—the national chains employ the profit-centric business model based on national advertising and seeing a high volume of patients.
Second, local hearing care providers generally have more experience providing personalized hearing care. Local hearing care providers generally have several years of experience conducting hearing tests, helping patients select the right hearing aids, and custom-programming the hearing aids to match each patient's specific hearing loss. In contrast, if hearing aids or personal sound amplifiers are purchased without the consultation of a competent hearing professional, it is not likely that the devices will amplify the correct frequencies and the results will be disappointing.
Asheville Audiology Services is urging anyone with suspected hearing loss to schedule a consultation with their local hearing care provider. The combination of personalized care, expert counseling, and significant patient care experience makes the local provider the top choice for the optimal recovery of hearing.
About Asheville Audiology Services
Asheville Audiology Services is a full-service audiology practice located in Asheville North Carolina. Equipped with state-of-the-art technology and compassionate staff, the practice offers comprehensive services including hearing tests, hearing aid evaluations, custom hearing aid fittings, hearing aid cleanings, rehabilitative counseling, preventive care advice, and service and repair for most hearing aid models.
Contact:
Cynthia B. Earle, Au.D.
Asheville Audiology Services
(828) 348-1690
http://www.ashevilleaudiology.com