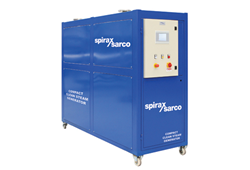 Blythewood, South Carolina (PRWEB) October 12, 2015
Spirax Sarco, the leader in products and services for steam system solutions is pleased to announce the release of the CSM-C 600 compact clean steam generator. This unit is a skid mounted system that is designed to provide dry saturated steam that meets the requirements of HTM2031, HTM2010, and EN285 standards. The CMS-C 600 generator can produce up to a maximum of 1,275 lb./hr. of clean steam at 45psig – dependent on plant steam pressure and feedwater temperature. The generator can be used across a wide range of industries (Healthcare, Food and Beverage, Pharmaceutical, Biotechnology, and Electronics) and in any application that relies on sterilization or humidification as part of its process.
Features include:

Compact footprint frees up valuable real estate in mechanical room – will fit through standard 36" door
Modulating control of water level and plant steam inlet delivers tight accurate control
PLC with color touch screen HMI provides clear visual indication of all operational parameters and alarms
Easy interface with Building Automation Systems via the available communication protocol options
Long tube bundle life expectancy (dependent on water quality) reduces cost of ownership
###
About Spirax Sarco, Inc.
For engineers around the world Spirax Sarco is synonymous with excellence in steam system management. We offer the industry's most extensive range of products and services, coupled with expertise based on over a century of practical application across a variety of industries. In short we create the solutions that set the benchmark for steam using organizations worldwide, working alongside them to improve productivity, save energy and reduce waste.
Our commitment to customers is supported by over 1,100 dedicated engineers, a direct sales force in 55 countries worldwide, through which we serve customers in around 100 countries and complemented by substantial investment in state-of-the-art locally based manufacturing. Our aim is to help customers build sustainable and profitable business, using their country and industry insight to tailor solutions precisely to their needs. Further information can be found at http://www.spiraxsarco.com/global/us.