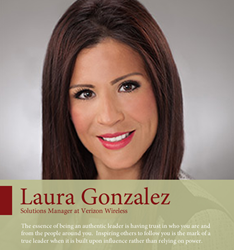 After going through the CHL Academy workshop, I had such conviction in my heritage and my culture that I started taking more advantage of what made me unique.
Irvine, CA (PRWEB) October 05, 2015
In celebration of Hispanic Heritage Month, Center for Hispanic Leadership (CHL) Academy, the talent development and career advancement platform for 21st century leadership, has named Laura Gonzalez of Verizon Wireless as its Hispanic Leader of the Month, for her successful accomplishments in the business world and also as a Latina who gives back to the community through mentorship and active support.
The 2015 theme of Hispanic Heritage Month, which runs September 15 to October 15, is "Honoring our Heritage.  Building our Future." In her current role as Solutions Manager at Verizon Wireless's Destination store in Houston, Texas, Gonzalez does both – by using her cultural values as a powerful source of strength, and remaining active in the community that gave her those values and, as she says, "passion for the people they love and the opportunities in life."
According to CHL Academy founder Glenn Llopis, "We chose Laura Gonzalez as Hispanic Leader of the Month for her proven track record over 13 years of exceeding results and for her ability to create a team environment with an inward focus on job satisfaction and employee development combined with an outward "customers-first" mentality. Through it all, Laura has built a reputation of integrity and trust and has proven that if you do the right thing for your customers, your team and yourself – results and success will follow. Through CHL Academy, she has grown even more as a leader by learning to embrace deeper her Hispanic culture and use key learnings to propel her career to new and higher levels."
After her impressive results in sales operations, business-to-business and indirect sales, and her successful leadership of teams in the retail and indirect agents channel, Gonzalez was chosen to lead the Verizon Houston Destination Store, one of only  six in the country specifically designed to cater to the lifestyle of all its customers through Verizon's innovative technology. There, Laura leads a team of 10 specialists with the goal of excelling in guest satisfaction while exceeding business metrics and key performance indicators.
As Hispanic Leader of the Month, Gonzalez and her accomplishments are featured on the CHL Academy home page. She also has her own micro-page on the site, where she shares the influence of her Hispanic heritage on her life and career success, including: what she stands for as a leader; what she most admires about Hispanic culture; what her parents taught her about leadership; the mentors who helped her along the way; her personal brand as a leader; and her advice to other Hispanic professionals. For those interested in learning more about her story, a full length article details how her corporate leadership journey has been guided by her Hispanic heritage and values.
Says Gonzalez, "After going through the CHL Academy workshop, I had such conviction in my heritage and my culture that I started taking more advantage of what made me unique. I did that by making sure I saw the opportunities in front of me and seizing them. Also, I made sure that I was sharing that success with others so that those around me were successful and so far that has brought more good fortune to my career."
Further explaining the decision to recognize Gonzalez, Llopis said: "During its launch in November 2014, Laura was chosen to represent Houston Destination in the media at local morning show Great Day Houston and at a series of technology segments for the Spanish media. She also remains active in the community by attending Hispanic Chamber and other events, and she leads an initiative for local girl scouts troops facilitated by her team at the Destination store. She is the face of the community, and for that along with her many accomplishments, she truly deserves to be named our Hispanic Leader of the Month during Hispanic Heritage Month."
For more information or to nominate a Hispanic Leader of the Month, please contact Sandy Sickler at sandy(at)glennllopisgroup.com or via phone at 949-842-6204.