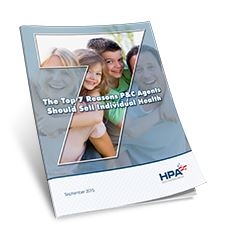 It's imperative that P&C agents understand the implications of their clients shopping somewhere else for health insurance...
Birmingham, Alabama (PRWEB) October 05, 2015
Health Partners America (HPA) (http://www.healthpartnersamerica.com), an industry leader in providing dynamic private exchange sites and broker support services, announces the release of a new white paper – The Top 7 Reasons P&C Agents Should Sell Individual Health. This 9-page document was written to help property and casualty insurance agents understand the benefits and importance of offering a means by which their clients can shop for and purchase individual health policies.
Many P&C agents are making a potentially career-bruising mistake by dismissing individual health. With the number of private exchange sites at an all-time high, the P&C client who needs health insurance will more than likely find themselves on some other agent's private exchange site to look for health coverage. But, what they'll find is a lot more than health insurance information – they'll likely find auto and home owners insurance too.
"It's imperative that P&C agents understand the implications of their clients shopping somewhere else for health insurance," explains Kate Murphy, Vice President at Health Partners America, "and that's precisely what this paper is about – the main reasons why it's crucial for P&C agents to expand their product portfolio to include individual health - especially right now, before open enrollment begins. Agents who ignore this reality are in jeopardy of losing customers they've spent years building relationships with."
The paper outlines seven situations or reasons that explain why P&C agents should take a hard look at offering health insurance. The fact that their competitors are already doing it, that it will increase client retention, that it will earn them additional revenue, and that they don't have to write the policies themselves are some, but not all, of the reasons described in the paper.
Health Partners America is offering the full report at no cost through the company's website. http://healthpartnersamerica.com/the-top-7-reasons-pc-agents-should-sell-individual-health/
About Health Partners America
Founded in 2007, Health Partners America provides insurance brokers with the tools, training, and technology to help their customers easily find and purchase quality health coverage using affordable solutions. Health Partners America has been a leader in providing dynamic, customizable private exchange sites to individual brokers, brokerage firms, employers, and associations since 2011. Backed by an exchange certified enrollment team, HPA is uniquely equipped to help brokers navigate and adapt to the changes presented in today's marketplace. HPA is an industry leader in supporting and elevating brokers' prosperity through training, tools, and technology. For more information, visit healthpartnersamerica.com.
If you would like more information about this topic, please call (205) 443-2186 or email Doug Foshee at dfoshee(at)healthpartnersamerica(dot)com.