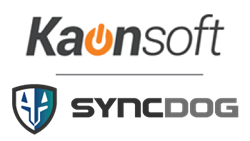 In building the platform, we knew from the start that we had to provide more standardization for customers building mobile applications supported with a high degree of security.
Orlando, FL (PRWEB) October 06, 2015
Kaonsoft and SyncDog today announced their integrated platform for secure MaaS application development and deployment will be available for demo from the Kaonsoft booth (#40) at Gartner Symposium/ITxpo 2015, October 4-8, in Orlando, Florida. The solution, The Kaonsoft Enterprise Mobility Platform™, is being touted as the next evolution of application development and deployment in a marketplace where few applications are able to pass the requirements of enterprise security and compliance mandates.
A recent Gartner press release from the Gartner Security and Risk Management Summit in Dubai, UAE, announced that more than 75 percent of mobile apps will fail even the most basic security tests. As BYOD and COPE (corporate owned, personally enabled) continue to expand across enterprise networks, the risk to personal apps exposing malware to organizations increases exponentially. The Kaonsoft and SyncDog platform mitigates the risk by:

Providing more than 100 out-of-box ready-made application templates as a framework for ensuring the best-practice application design and architecture.
Leveraging the out-of-box templates, organizations can build and deploy secure apps in a matter of days.
Deploying apps to mobile devices across the SyncDog SentinelSecure™ application container, an app "wrapper" with FIPS 140-2, AES 256-bit encryption. The secure container segments corporate apps and data from personal device apps/data.
Providing hosting environments that can be cloud-, on-premise, or appliance-based, depending on customer requirements.
Providing mobile security consultative services to enterprise (and third-party) developers as they are building client enterprise apps to ensure security and compliance is standardized.
"Our platform accelerates and simplifies the application-building and deployment process for clients," said Daniel Lee, Kaonsoft CTO and co-founder. "In building the platform, we knew from the start that we had to provide more standardization for customers building mobile applications supported with a high degree of security."
The SyncDog vision has familiar roots: "SyncDog has been an advocate of expanding mobile business process and decision support but mobile application functionality has been lagging far behind application capabilities inside the network perimeter," said Jonas Gyllensvaan, president and CEO of SyncDog. "The Kaonsoft platform paves the way for rapid app deployment that will bring a more robust set of secure apps to mobile devices."
Kaonsoft will be exhibiting from the Emerging Technologies Pavilion at booth #40. Additionally, Kaonsoft's CTO Daniel Lee will be presenting "Revolutionizing Enterprise Mobility with MaaS (Mobilizing-as-a-Service)" on Wednesday, October 7, at 1:55 p.m. ET. The presentation will take place on the stage located at the middle of the Emerging Technologies Pavilion.
Kaonsoft will be demonstrating the Kaonsoft Platform at booth #40 during the following ITxpo times:

Monday, Oct 5: 5:30pm - 7:30pm
Tuesday, Oct 6: 12:00pm – 7:15pm
Wednesday, Oct 7: 12:00pm – 7:15pm
Thursday, Oct 8: 10:45am – 1:30pm
View the full Gartner/ITxpo agenda here.
Unable to attend Gartner Symposium?
If you are unable to attend Gartner Symposium and want to receive a demo of the Kaonsoft Platform™, you may contact Kaonsoft or SyncDog directly. For more information on Gartner, please click here.
About SyncDog, Inc.
SyncDog is the leading independent software vendor (ISV) for containerized application security for enterprise mobile computing. SyncDog's flagship product SentinelSecure™ provides defense-grade secure mobile device work stations or "containers" that can secure email & contacts, calendar items, IM apps, Internet browsers, mobile file stores and other business apps provisioned on personal devices to be used in a BYOD or COPE (corporate owned personally enabled) setting. SentinelSecure protects both data at rest and data in transit through Federal Information Processing Standard or FIPS 140-2 AES 256 bit encryption.
SentinelSecure is provisioned across the SyncDog Sentinel Server, a highly extensive, flexible agent-based deployment platform with active monitoring of BlackBerry 5 and 10 servers, Good for Enterprise and Microsoft ActiveSync. Sentinel Server is a comprehensive mobility monitoring solution for managing user setup/configuration, mobile access policy, security message logging, container lock/wipe functions, inventory management and other functions critical to mobile security and compliance.
Utilizing the SyncDog Sentinel Server and the SentinelSecure container, IT administrators have the enterprise visibility to incorporate mobile device security into organizational strategies for enterprise security that includes the proper audit trails for compliance. For more information on SyncDog products please visit http://www.syncdog.com/products/.
About Kaonsoft
Kaonsoft is a software company that provides complete end-to-end solutions to create enterprise mobility applications for cross platforms, bridging the gaps between business and technology. Under a new concept called MaaS (Mobilizing-as-a-Service), Kaonsoft Enterprise Mobility platform™ allows customers to rapidly mobilize their organization by seamlessly delivering business critical data from back-end systems out to any mobile device to empower employees, communities or citizens in record time with low risk. For more information on Kaonsoft, please visit [http://www.kaonsoft.net.