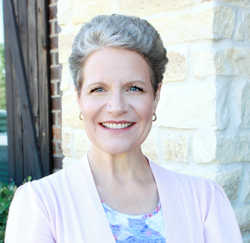 "Our goal is vibrant health, not just the absence of disease," said Dr. Paula Kruppstadt.
The Woodland, Texas (PRWEB) October 06, 2015
Dr. Paula Kruppstadt, today announced the opening of Hope for Healing, a Nutrigenomic Functional Medicine and Pediatrics Practice. Although Dr. Kruppstadt will continue to work with pediatric patients from a conventional medicine standpoint, her functional medicine practice includes patients of all ages and focuses on nutrigenomics (nutrition & genetics), and wellness. Functional Medicine seeks to uncover the underlying causes and triggers of health issues and chronic illness such as recurrent ear infections, asthma, allergies, eczema, autoimmune problems, autism spectrum, ADD/ADHD, obesity, OCD and depression.
"Our goal is vibrant health, not just the absence of disease," said Dr. Paula Kruppstadt. "By understanding each individual's genetic influences, medical history, lifestyle choices and environmental exposures, we can now better determine the causes of health problems and address them head-on instead of prescribing a 'pill for the ill.' I take the time to get to know each patient and seek to create a partnership with them in a very consultative manner," she added. Over the course of a typical treatment, Dr. Kruppstadt will meet with each patient for numerous hours to ensure a comprehensive history is obtained and to discuss their personalized treatment plan based on nutritional and biochemical imbalances and their unique genetics.
"The advances in genetic understanding fundamentally changes the way we as physicians can work with patients," said Kendal L. Stewart, M.D., Chief Science Officer for Neurobiologix Supplements. "Since functional medicine focuses on identifying root causes it enables practitioners to target patient health issues at the genetic level, resulting in more effective treatment. I encourage everyone to go and find out what insights you can learn from your genes and those of your loved ones, by working with a Functional Medicine expert such as Dr. Paula Kruppstadt," he added.
Hope for Healing also promotes good nutrition, beyond a healthy diet and basic exercise. Since many of our foods today lack the nutrients the body requires, Dr. Kruppstadt's consultations and customized treatment plans consider the genetic profile of the patient including recommendations for nutritional supplements that help patients achieve optimal health and vitality. These specialized supplements can be purchased through the Hope for Healing website. "When you put nutrition and genetics together, you understand Hope for Healing's focus--Nutrigenomics," said Dr. Kruppstadt.
Since Functional Medicine is new to so many people, Dr. Kruppstadt offers free informational seminars on a regular basis. To register for upcoming seminars visit: http://www.paulakruppstadtmd.com/free-seminars. A recent seminar attendee stated that they were amazed how genetic testing can radically change the overall approach to treatment of health issues, all without the use of medicine. One of the key thoughts they took from the seminar was the fact that genes alone do not define us; it is what we bathe them in that makes us who we are – in other words, there is hope for all of us regardless of genetic makeup if we determine to make healthy lifestyle and nutritional choices.
For more information about Hope for Healing, and/or to book an appointment, click the contact us link, or email us at info(at)paulakruppstadtmd(dot)com or visit the Hope for Healing website.
About Hope for Healing and Dr. Kruppstadt, MD PA
Founded in 2015, Hope for Healing promotes the individual's health and vitality by examining each patient's unique biochemical makeup, medical history, lifestyle and environment to identify underlying causes of health issues. Through Functional Medicine, Hope for Healing creates individualized plans that help patients manage or prevent health issues and achieve optimal lifelong health.
Dr. Kruppstadt graduated from the University of Texas Health Science Center at San Antonio in 1990 and completed her pediatric internship and residency at William Beaumont Army Medical Center in El Paso in 1993. She promptly earned her Board Certification from the American Board of Pediatrics in 1993, and is a Fellow of the American Academy of Pediatrics.
She served as a U.S. Army pediatrician at Ft. Hood, Texas and then relocated to The Woodlands, Texas in 1995. She has since worked as a general pediatrician in various venues, including Texas Children's Pediatrics and Texas Children's Urgent Care, and she served as a pediatric hospitalist for Baylor College of Medicine at St. Luke's Hospital in The Woodlands, Texas.
Dr. Kruppstadt has earned certification in Applying Functional Medicine in Clinical Practice (AFMCP).
###