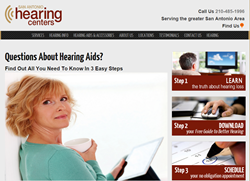 San Antonio, TX (PRWEB) October 06, 2015
Modern digital hearing aids now come equipped with many features that make the devices more powerful and effective than ever—but not without a cost. And like most purchases, people typically get what they pay for.
Considering how important the sense of hearing is to overall quality of life and healthy relationships, obtaining the right hearing aid, in consultation with a hearing specialist, is essential. And while hearing aids are not inexpensive, the investment is well worth the cost, especially when you start to compare the monthly cost of a pair of hearing aids to other ordinary monthly expenses.
According to San Antonio Hearing Centers, the monthly cost of a pair of high-performance hearing aids is typically less than the cost of the average monthly cable TV bill. And hearing aids provide much higher value by strengthening communication skills and strengthening relationships. When viewed as a worthy monthly investment, rather than as a large one time cash payment, the expense seems more sensible and manageable.
Once the decision is made to invest in hearing aids, people frequently assume that no financial assistance is available, but this is simply not the case, according to San Antonio Hearing Centers. In a recently published article titled Finding Financial Assistance for Your Hearing Aids, San Antonio Hearing Centers provides numerous options and resources patients can consider for financing their investment.
Potential funding sources include private insurance, flexible spending accounts, veterans benefits, state rehabilitation programs, charitable organizations, credit programs, and more. Sometimes, just performing a google search for hearing aid financing programs for a particular state will return several helpful search results.
San Antonio Hearing Centers is urging those considering hearing aids to contact the practice for guidance on finding the right financing option for their particular situation. There are several options and arrangements that can be made, and better hearing and a better life is within reach for those in any financial position.
About San Antonio Hearing Centers
San Antonio Hearing Centers serves the greater San Antonio Area including the communities of Live Oak and New Braunfels. We offer a full range of diagnostic and preventative hearing healthcare professional services, including hearing aid screening, evaluations, hearing aids sales and rehabilitative and preventative counseling. We are dedicated to keeping abreast of the latest improvements in technological advancements in the hearing industry and are committed to offering the most current options to our patients.
Contact:
Penney Powell
San Antonio Hearing Centers
210-485-1996
http://www.sahearingcenters.com
Serving the greater San Antonio area